Back in September, at Venice, I found my senses dazzled and my brain nonplussed by Luca Guadagnino's "I Am Love" — a fulsomely stylized family melodrama showcasing  yet more marvelous work from Tilda Swinton (in Italian, to boot) over an otherwise undernourished story and ensemble.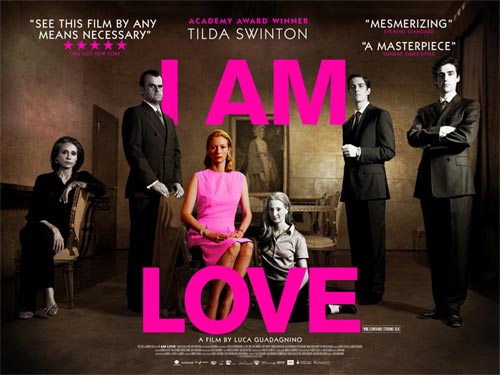 Still, with every month that passes, it becomes clearer that I'm in the extreme minority: critics across the board are liberally handing out "masterpiece" claims and Visconti comparisons, and some I've spoken to even declare it their favorite film of the last year. Perhaps it caught me on a bad day. Perhaps not. I look forward to catching it again to find out.
Either way, the film looks set to be a robust arthouse hit when it open Stateside this summer. British audiences need only wait until April; The Guardian has an exclusive trailer here, while the striking UK one-sheet is above.