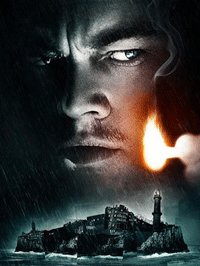 *All historical figures cited are adjusted to today's dollars.
Martin Scorsese and Leonardo DiCaprio's fourth collaboration together has provided the former with his biggest debut ever and the latter's second only to "Titanic." $40.2 million is the estimate, which puts it a fraction behind "Madea Goes to Jail" from this same weekend last year and means that unless word of mouth is particularly poisonous, it should squeak past the $100 million mark. To do so, it'll have to perform more like an esteemed thriller than a typical horror film as "Friday the 13th" could only translate a $41.4 million February opening into a $68.9 million total last year.
Second place goes to "Valentine's Day," which suffered a morale-damaging 69% dip from last weekend. The drop was never going to be kind due to the holiday last Monday but only "New Moon" and Ang Lee's "Hulk" have dropped harder while playing on more than 3,500 screens. I guess audiences decided not to go back and watch it again for all the hidden nuances in the way Jamie Foxx says "Damn!" to something off-screen.
"The Wolfman" also fell 69% to $9.8 million and fifth place, although that was a bit more expected. It will now be lucky to gross $71 million, which is what it would need to surpass "Teen Wolf." Maybe if Anthony Hopkins's character was a bit more like Rupert "Stiles" Stilinksi, Universal could be a little closer to recouping that $150 million budget. Maybe throw in Del Toro doing a handstand on a horse and carriage ride? Just thinking out loud.
"Percy Jackson & the Olympians: The Lightning Thief" fell a decent-by-comparison 51%. That's still a bit high for a family film on this weekend given no direct competition, but third place and $15.3 million still puts it on course for a healthy total.
Hey, remember "Avatar?" That movie fell 32% to notch a 10th-consecutive weekend in the top 5, making it the first film since "My Big Fat Greek Wedding" to do so and finally giving James Cameron as much Hollywood clout as Nia Vardalos. She still has one more screenwriting Oscar nomination than he does, though.
The best hold in the top 10 goes to "Tooth Fairy," which has yet to drop more than 34% in any week and has quietly turned a $14 million debut into $50 million already. Well played Dwayne Johnson. Well played.
In limited release, Roman Polanski's "The Ghost Writer" earned a triumphant $179,000 from only 4 screens, giving it far and away the best per-theater average of 2010 so far. Polanski also won Best Director at Berlin this week so I'd say, aside from being in jail and probably facing life in prison and multiple gang-rapes, it was a good week for him.
Well, as has already been discussed in a comment thread, I spent $13.75 to see 80 excruciating minutes of "Shutter Island" this week. Why only 80? Because I walked out, which I've only ever done twice before. And it would have been less but the rest of my group was more lenient than I was. It's become apparent to me that it would be a fool's errand to try and convince anyone here why I hated it but if there's genuine interest, I'll debate it in the comments.
Thankfully, I was able to wash that bad taste out of my mouth with "Daddy Longlegs," the truly refreshing second feature by the Safdie Brothers. I encourage you all to catch it On Demand this week (it ends on Friday) because I'm willing to wager that the May theatrical release will be little more than a one week New York formality.
So, who wants to fight about "Shutter Island?" Here are the weekend's top domestic grossers, courtesy of Exhibitor Relations: