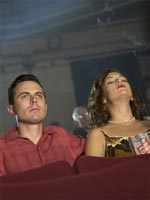 Having named its prizewinners yesterday, the Berlinale officially wraps today. I meant to file my last post on the festival once I arrived home on Friday night, but assorted tasks and distractions kept it on the back burner. Too many things, too many things, as Amber Waves would say.
My last day in Berlin served up one of the films I'd most been looking forward to, tireless British filmmaker Michael Winterbottom's Jim Thompson adaptation "The Killer Inside Me." Winterbottom's baldly violent noir arrived in town with the embers of its Sundance controversy still glowing, hoping to liven up a staid Competition. Werner Herzog's jury might not have taken the bait, but many audience members at the press screening I attended did.
"Fuck you!" yelled one German journo, rather lamely, at the screen once Casey Affleck's Texan sheriff (and moonlighting serial killer) had finished pummelling Jessica Alba's lovely face to the texture of steak tartare. After that, obediently outraged grumbles greeted assorted scenes of sex and sadism, while a chorus of boos accompanied the end credits.
For all that, the hostility didn't sound that spontaneous to me, and not only because the audience came forewarned and forearmed. The film — smart, elegantly composed and faintly dour, like much of Winterbottom's mid-range work — is hardly the unhinged moral transgression some of the Sundance reports would have you believe, while the admittedly unpleasant violence is unlikely to rattle anyone who sat through, say, "Irreversible."
It's rare for a comparatively mainstream title to take quite such a graphic approach to female suffering at the hands of men, and Lars von Trier will surely be grateful that the self-appointed misogyny police can now beat down another director's door for a while. But Winterbottom is also to be commended for mirroring the tonal nastiness of Thompson's work quite so unflinchingly; as a feat of adaptation, the film is conscientious to a fault.
That it works as much as it does (if not as much as it could) is thanks largely to Affleck's startling lead turn. Reprising the slithery adaptability of his Oscar-nominated Robert Ford, but with more straight-backed charm, he's ideally cast here and knows it, wielding his unnervingly milky gaze like a weapon in every scene. Something in Affleck's easy shuffle between yes-ma'am compliance and leery reticence somehow puts me in mind of the young Henry Fonda; a great American character actor might be in the making here.
If there's a problem, it's that we're too beguiled by the star. With Affleck inviting us so persuasively into his character's mindset, the film wants for tension with the outside world, and suspense consequently goes walkabout.
The supporting cast fill out their roles respectably, though there's a hint of dress-up in otherwise fine contributions from Alba and Kate Hudson. The atmospherics are rich and satisfying: Winterbottom and DP Marcel Zyskin wisely resist the temptation to cast the 1950s-set film in a burnished period glow and opt instead for harder, bleaker lighting schemes. (Bonus points, too, for a gorgeous opening credit sequence.) But even these assets point to more of an exercise than a fully-fleshed movie, an accomplished but unfelt feather in the cap of a restless auteur.
Two other films I caught at the tail-end of my Berlin journey sadly don't merit the discussion their credentials might suggest. "Mammuth," a gently absurdist French comedy from the directing duo of Benoît Delépine and Gustave de Kervern, is more mainstream and character-oriented than their 2008 effort "Louise-Michel," but prompts more smiles than genuine laughs.
Gerard Depardieu continues his engaging recent run of rumpled sad-sack characterizations as the title character, a hulking blue-collar worker whose retirement blues lead him on a tour of former places of employment; Yolande Moreau ("Seraphine") his quietly exasperated wife. The film's episodic structure, built largely around the charisma of its veteran leading man, recalls rambling American efforts like "About Schmidt" and "Broken Flowers," but the equivalent sour bite is missing. Amiably shabby in construction, it's another film ill-served by the expectations of a Competition berth.
Finally, Nicolas Philbert's documentary "Nenette," a fly-on-the-wall portrait of the eponymous orangutan at a Paris zoo, had considerable charm, but ultimately appears a trifle next to the director's "Être et avoir." Shot from the perspective of zoo visitors behind the glass, absorbing their faceless comments, it's a clever, slightly disorienting curio that might have played better in the short format originally intended for it.
And thus ended an enormously enjoyable week of festival-going, enhanced by the year-round pleasures of Europe's coolest city (and a lot of good beer, if I'm being honest). I may have mentioned some wobbles on the programming side of things, but they hardly detract from a supremely well-run and good-natured festival: as one critic said to me, "Berlin is like Cannes without the crazy, and that's okay."
My thanks go to the festival staff who made things so much more navigable than they might have been, the passers-by who looked on sympathetically every time I slipped and face-planted on the icy Berlin pavements, and assorted colleagues and acquaintances for their valuable chatter — with an MVP mention for the Telegraph's Tim Robey. Tschüss, Berlin.