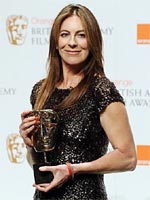 The writing, in case you hadn't already read it, is on the wall.
In the biggest BAFTA haul for a non-British production since "American Beauty" a decade ago, Kathryn Bigelow's Iraq drama took six awards at the Royal Opera House, including Best Film, Director and Original Screenplay. Next up: Oscars. And plenty of 'em, I'm guessing.
I did respectably enough in my predictions, nailing 15 out of 21 categories, though I missed the big one, thinking homegrown favorite "An Education" would come out on top. The Brits did, however, vote local in the lead acting categories, with Colin Firth and Carey Mulligan taking well-deserved honors — probably their last of the season.
"An Education" lost both the top awards it was up for, as the ever-selective Best British Film committee once more looked to the fringes to reward Andrea Arnold's "Fish Tank" instead. I'm thrilled to see a major award for my #2 film of last year, after it was blanked entirely in the general categories. Continuing a good night for my pet films, meanwhile, "A Prophet" took foreign-language honors.
Besides "The Hurt Locker," the night's only multiple winners were "Up," "The Young Victoria" and "Avatar," each of which took a pair of awards. James Cameron will at least be pleased that he improved upon that embarrassing BAFTA donut for "Titanic" twelve years ago.
Speaking of all things embarrassing, the ceremony was its usual lame self, hindered by some truly abysmal quips cooked up for host Jonathan Ross. Compounding the flatness of the whole affair, the BBC, in its wisdom, couldn't even be bothered with a live broadcast this year — not acceptable under any circumstances.
Still, some nice moments survived, including an infectiously teary acceptance speech by "Moon" director Duncan Jones (taking the Carl Foreman Award), a dryly witty one by Firth and this fantastic opener from foreign film winner Jacques Audiard: "Thank you, I love you, you're all so well dressed." Ain't that just awards season in a nutshell?
Check out the full list of winners at The Circuit.