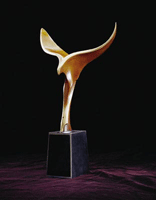 The Writers Guild of America awards are tonight, and they couldn't feel less relevant given the slew of ineligibilities this season. The nominees are here if you need a refresher.
If I were to take a stab, I'd call it for "Up in the Air" and "The Hurt Locker," coincidentally my same picks for the Oscars.  Although the original screenplay race can't be considered foreshadowing here, given that Quentin Tarantino isn't eligible, but Mark Boal is gaining traction by the minute as Harvey's megaphone has chafed members a bit this week.
Other Oscar nominees that weren't eligible with the guild include Nick Hornby for "An Education," Neill Blomkamp and Terri Tatchell for "District 9" and the guys behind "In the Loop." Oren Moverman and Alessandro Camon, ironically enough, were eligible for "The Messenger" at the guild and were snubbed, yet they made it in with the Academy.
If you have any thoughts you'd like to offer up, rifle them off here.