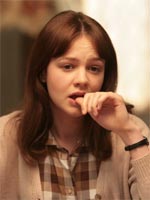 Enjoying a curious position this year as the only televised awards ceremony between the Academy Award nominations announcement and Oscar night itself, the BAFTAs will no doubt be relishing their precursor status even more than usual.
Since they made the move to precede the Oscars nine years ago, BAFTA hasn't slavishly anticipated the bigger awards (they've matched the Academy's Best Picture pick only three times), but they have sometimes been at the crest of new waves in voting: late surges of momentum for the likes of Marion Cotillard, Tilda Swinton and Alan Arkin all made their first appearance on BAFTA night.
This year, however, I'm suspecting that the Brits will voluntarily isolate themselves from the Oscar-influencing game. Never ones to shy away from patriotic voting, BAFTA has handed its top prize to a homegrown production for three years running – it's highly likely that Oscar longshot "An Education," which leads the nomination count with two U.S. productions, will make it four.
Of its rivals, look for "The Hurt Locker" to upset more than "Avatar": critics are as keen here on Kathryn Bigelow's Iraq drama as they are Stateside, and it's hard to imagine female rival Lone Scherfig standing in the way of Bigelow's Best Director steamroll. James Cameron, meanwhile, should be haunted by memories of "Titanic" going 0-for-10 back in the 1997 race; BAFTA is often wary of Hollywood blockbusters with no vested British interest.
If "The Hurt Locker" does pip the local favorite to the top prize — as it well might — that would likely affect the outcome of Best British Film, in many ways the night's most intriguing race. Determined by a smaller committee, this category can be relied upon to celebrate the underdog; no film has ever taken this prize in addition to the Best Film award.
Assuming "An Education" takes the latter, that leaves the ghetto category a tight contest between two multi-laurelled indies: I solve the coin-toss between "Fish Tank" and "Moon" (the more logical pick, given its strong showing in the BAFTA longlists) only by guessing that Duncan Jones will be appeased with the Carl Foreman Award. This could go any way.
As for the acting races, three of them seem set in stone to me: there's no competition strong enough to stop the Christoph Waltz and Mo'Nique avalanche, and given the heat for her film, hometown girl Carey Mulligan shouldn't have too much trouble seeing off Meryl Streep. (Oscar frontrunner Sandra Bullock, of course, is ineligible here.)
Best Actor, however, is a more intriguing puzzle: if BAFTA voters really are keen to emulate their cousins across the pond, they'll check off Jeff Bridges' name, but "Crazy Heart" isn't the most visible title in these parts, and Bridges is more of an American treasure. (Pete Hammond is arguing that voters might be frightened off by the country music, but that didn't hurt Reese Witherspoon.) The beneficiary would be Colin Firth, whose film may have only a week's jump on Bridges' in the UK, but is a well-loved local stalwart; I'm guessing the Limeys keep it cosy.
A crucial thing to bear in mind: unlike at the Oscars, branch voting determines the winners in all but the acting and assorted Best Film categories. This can often lead to idiosyncratic picks, particularly in the technical categories – last year, however, they hewed unusually close to the status quo. It's anyone's guess.
Full list of nominees here. My predictions (and preferences) below. What are yours?
Best Film
Will win: "An Education"
Should win: "The Hurt Locker"
Best British Film
Will and should win: "Fish Tank"
Best Director
Will and should win: Kathryn Bigelow, "The Hurt Locker"
Best Actor
Will win: Colin Firth, "A Single Man"
Should win: Jeremy Renner, "The Hurt Locker"
Best Actress
Will and should win: Carey Mulligan, "An Education"
Best Supporting Actor
Will and should win: Christoph Waltz, "Inglourious Basterds"
Best Supporting Actress
Will win: Mo'Nique, "Precious"
Should win: Kristin Scott Thomas, "Nowhere Boy"
Best Original Screenplay
Will win: "Inglourious Basterds"
Should win: "A Serious Man"
Best Adapted Screenplay
Will and should win: "In the Loop"
Best Foreign Language Film
Will and should win: "A Prophet"
Best Animated Film
Will win: "Up"
Should win: "Coraline"
Best Cinematography
Will and should win: "The Hurt Locker"
Best Art Direction
Will win: "The Imaginarium of Doctor Parnassus"
Should win: "District 9"
Best Costume Design
Will win: "Coco Before Chanel"
Should win: "Bright Star"
Best Film Editing
Will and should win: "The Hurt Locker"
Best Makeup and Hair
Will win: "The Young Victoria"
Should win: "The Imaginarium of Doctor Parnassus"
Best Music
Will win: "Up"
Should win: "Crazy Heart"
Best Sound
Will win: "Avatar"
Should win: "The Hurt Locker"
Best Visual Effects
Will and should win: "Avatar"
Carl Foreman Award (Best Debut by a British Writer, Director or Producer)
Will and should win: Duncan Jones, "Moon"
Rising Star Award
Will win: Kristen Stewart
Should win: Tahar Rahim