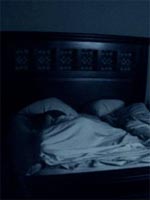 • You asked for it, you eventually got it: our annual list of the Top 10 shots of the year, part one and part two.
• In our ongoing Oscar Guide series, we dug into the supporting actor, foreign language film, art direction, makeup and sound editing races.
• Guy's Berlinale coverage continued, with "The Illusionist," "The Kids Are All Right" and "Winter's Bone" among the highlights.
• We interviewed "The Cove" director Louie Psihoyos, as well as the creative minds behind "Coraline," Neil Gaiman and Henry Selick.
• Over in our Tech Support interview series, meanwhile, we put "Star Trek" under the spotlight.
• Oscar producers broke with tradition by announcing there will be no Original Song performances at this year's ceremony.
• "The Hurt Locker" continued its cruise through the guilds at the American Cinema Editors' Eddie Awards.
• The Santa Barbara fest wrapped with a tribute to Jeff Bridges, including a Q&A moderated by Kris himself.
• Kris also attended the Creative Screenwriting panel of of this year's nominated writers, offering thoughts as well as audio.
• We also sat down with one of them, namely "Precious" scripter Geoffrey Fletcher.
• On the box office side, Chad contemplated the prospects for Martin Scorsese's "Shutter Island."
• As usual, Kris and Anne summed up the week's awards news and events in Oscar Talk.