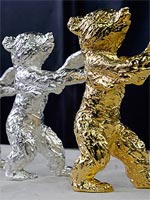 From Telegraph critic (and Berlinale buddy par excellence) Tim Robey's neat festival roundup:
Maybe they'll bestow a specially bonkers Golden Bear to mark the occasion [of their 60th anniversary] – for instance, to the one film I walked out of, the Japanese hopeful, Caterpillar, in which a mute war veteran with no arms or legs gets frisky with his unduly appalled wife. As a friend quipped, once we'd snuck out of this mangily shot and edited exercise in Lars von Trierian erotic masochism, "Spare us the whole paraplegic Kama Sutra, already." Then again, Werner Herzog is presiding over this year's jury, so all bets are off.
That friend, I'm pleased to say, is me. (And I somehow share his fear that the jury will disagree with us tomorrow. I say that in lieu of any predictions.) Tim also joins me in the, shall we say, select club of "Gentlemen Broncos" fans. Read the rest here.