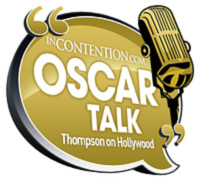 Welcome to Oscar Talk, a weekly kudocast between yours truly and Anne Thompson of Thompson on Hollywood.
Every week inches us closer to the end of the loudest Oscar season of all time. Today Anne and I sit down and discuss the noise of the week, adding our own noise (we went on a bit long this week):
• Anne was in attendance at Monday's nominees luncheon so she offers some first-person perspective on the goings-on.
• Speaking on the clutter, the glut of festive gatherings and contender pitching has hit a fever pitch, so we wax on about that a bit.
• Harvey Weinstein got his druthers this week as any and everyone desperate for something to write about has picked up on his proclamation that "Inglourious Basterds" will win Best Picture.
• The original song performances were nixed from the telecast this week, which leads us into a discussion of trepidation over how things will play out on March 7.
• Finally, we talk through a number of the below-the-line races before addressing the foreign language and documentary short categories at some length.
Have a listen below, with Jeff Bridges leading the way with a little ditty. And as always, you can subscribe to Oscar Talk via iTunes here.
[display_podcast]