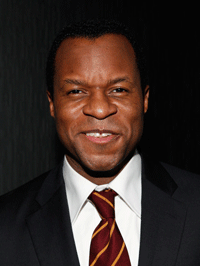 In a dimly lit backstage area of Santa Barbara's Lobero Theatre, "Precious" screenwriter Geoffrey Fletcher says his Oscar nomination is still setting in. "When I see in print somewhere that I've been nominated, it's still a bit of a shock," he says.
And of course it would be. Two years ago Fletcher was standing in line in New York City outside a comic book shop waiting to get Quentin Tarantino's autograph on his special edition "Reservoir Dogs" DVD. Now he finds himself sharing the circuit with Tarantino, both of them nominees for their work writing two of the most popular films of the Oscar season.
"Every day throughout the season has been a learning experience, and a wonderful one, because the journey was pretty long," he says. "But to get here, even though you wonder how it might feel to have a film out, maybe even one that gets some attention, nothing really can prepare you for it. But there's some good to that, too, because each learning experience helps anyone who's creative."
He still remembers clearly the first time he screened the film in Midtown Manhattan, long before Sundance or buyer interest, and seemingly a whole lifetime before the film awards madness that eventually took hold.
"I was crazy about this project and I was so close to it that I felt like I was having a child and handing it to others," he says. "People around me, primarily strangers, were a huge part of the experience. They seemed completely engaged and they reacted very vividly. I could hear them as well, I could see them and hear them reacting. On the way home I felt so alive."
Fletcher had never heard of Sapphire's novel "Push" until director Lee Daniels brought it to his attention. Daniels watched a short film Fletcher (who was teaching film at Columbia and NYU at the time) wrote, directed, shot and edited and reacted quite emotionally to it. He then asked Fletcher to get involved with the project on the spot. It was a milestone moment for Fletcher, who had hit brick wall after brick wall trying to get his foot in the door with the film industry.
"I had heard 'no' so many times that I didn't believe him at first," he says. "And I'm really grateful that I hadn't heard of this book before, because if I had, I think I would have been intimidated by it's following and stature, afraid to take liberties and make the necessary leaps to turn this difficult work into an accessible piece of cinema that retained the impact of the book."
Fletcher says he hadn't realized how far from his dream he had been until he found himself neck deep in the adaptation. "Resurrected" is the term he uses to describe the feeling, and yet much of what he put into the writing owes plenty to the struggle that came before.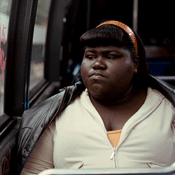 "I took jobs of all kinds," he says. "And I tell you, those were some tough years, but I wouldn't trade them. It's invaluable. And that kind of persistence and resilience made me understand Precious on a deeper level, because those are the sort of things she needed to get through every day."
Two weeks later in front of a young audience in Hollywood, many of them aspiring screenwriters, Fletcher offers sage advice. After recalling the woeful experience of working with data entry in a bank once upon a time, he tells the audience to "keep writing no matter what, and try every door. People who you think can help you won't, sometimes it's because they're trying to help themselves. But this film came through help of a stranger. And those bad jobs you have, I cherish that job now. At the time I didn't. But it will make you a better writer."
That awe and humble appreciation is evident in pretty much every answer Fletcher offers. He holds Daniels in high esteem, quite loyal to the director for giving him what was undeniably his big break. And it recalls for Fletcher a theme in the project.
"There's an idea that runs through this project, down to its core, and that idea is giving people an opportunity to achieve things you may not think they can," he says. "When I see the work that Mo'Nique, Mariah, Gabby, Paula and the rest of the cast do, it's a thrill, when you find someone who you may have underestimated and you see that there is so much more there. And it really makes me think how much talent is out there that may not get an opportunity?"
The indication from Fletcher is that things are not always what they seem. It's an idea that finds its way into the narrative we see unfold on the screen as well. Precious is an illiterate girl in a tough situation. The writing would appear to be on the wall, yet she pulls herself away from disillusionment's grasp. Her mother, Mary, is also much more than she appears, as the audience discovers by film's end. But it was all of a piece with a complex project that gave Fletcher a new lease on creative life.
"I was very energized by the idea of portraying a character who we might walk past on the street and never think twice about," he says later by telephone. "Other things were the importance of education, which was very big in our household. My mother was an educator for her entire career. Also, I looked at Precious as this great character like Odysseus or Huck Finn or Celia in 'The Color Purple.' We can all find our way in to identifying with the great characters like that. She brought the best out of me and it was a pleasure every day."
One inspiration for Fletcher was the French, Japanese and Italian cinema of the 1950s and 1960s, films that followed individuals traversing rough terrain and taking steps toward a certain end, however untidy the denouements may have been. "Everything isn't necessarily resolved by the end, but you feel that they've grown in some way," he says. "These characters have taken journeys where there might be challenges ahead but you feel as if they've taken one step at the very least."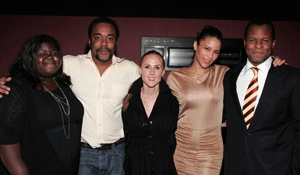 Throughout the writing process, Fletcher says he was given a great deal of freedom and support by Daniels. But he notes that the final product is very much the result of multiple perspectives on the material and, certainly, differing stylistic takes.
"Everybody kind of brought their stuff, their sensibilities to this," he says. "And so I think that there's a certain style that I'm drawn to and though I see a few things that remind me of my short film, Lee brought a great deal to it himself. There are some things in the film that I think really reflect his voice and others that reflect mine and others that reflect Mo'Nique's, Gabby and the rest of the cast, so ultimately there are a lot of pleasant surprises with what he did and I think he brought a tone that is becoming his signature."
One of the highlights of the season was the USC Libraries Scripter Award ceremony, which recognized Fletcher as a nominee for adapting the book, as well as Sapphire, author of the source material.
"The book's following, they have come up to me and said, 'I read the book, I loved the book, I didn't think it was possible to turn this into a movie,'" he says. "So that, to me, is a huge honor. Another big honor is when people see things in the movie that they thought were in the book, because that means I was doing my job, bringing things in that played organically with the original universe that Sapphire created. And to be honored with her, to me, that's extremely special. Any time that I can be associated with her and have her be at all pleased with what I tried to do with her masterpiece, it's just an amazing honor."
As the journey of "Precious" winds down, the Oscars a scant two weeks away, Fletcher looks back at a time when this break may have been his first and last. It was an opportunity, he says, to pour all of his passions into a story that inspired him like no other, and the dividends it may have paid professionally can't possibly compare to the dividends it paid creatively.
"I have such a passion for cinema and for all of the things it can do," he says. "I've always felt that when an audience sees your work, in most cases, they're spending hard-earned money. In all cases they're giving you something they can't get back, and that is their time. It's always a responsibility to really try to give that audience as complete an experience as you can. So I wanted it to be as hopeful as it was harrowing, and as funny as it was painful."
Such is life.