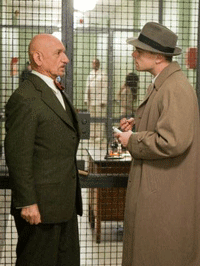 *All historical figures cited are adjusted to today's dollars.
It's been a long time coming but "Shutter Island" finally hits screens this weekend, with no competition in sight. That's right, Scorsese gets the weekend all to himself and his genre exercise, which is opening on just under 3,000 screens. The man is viewed as something of a deity, particularly on sites like this, and his fanbase clearly spans over more than one generation. At age 60, his career took a turn towards the populist and there seems to be no looking back. "Shutter Island" should be able to straddle the line between snobs and laymen, men and women and teens and adults. Sounds like a winning combination.
"The Departed" opened to $31 million in 2006 and is Scorsese's highest grossing film, along with the reason he has an Oscar on his mantle. Picking up a lifetime achievement gong at the Golden Globes last month is just another reason why his profile has never been higher across the country. His last attempt at this type of film was 1991's "Cape Fear," which opened with $18.5 million en route to a $143.6 million finish, and that's certainly not out of reach here, although I'd say it's unlikely. I'll say $33 million for the weekend and then it'll need strong word of mouth to hit $100 million.
"Valentine's Day" will almost be there by Sunday, even with a steep second weekend drop. Shaving off 60% will still give it $22.5 million and that's worst case scenario. Well, actually, worst case scenario is already happening as Warners rushes to get the sequel, "New Year's Eve" out in theaters. Congratulations America, you have demanded to see multi-ethnic celebrity casts prancing around vaguely connected storylines during a holiday and Hollywood will now duly deliver ad nauseam.
"The Wolfman" should also fall 55% or so for $14.2 million, which means it may wind up below even "Hidalgo" and "The Rocketeer" on Joe Johnston's esteemed filmography. (All kidding aside, "The Rocketeer" is pretty badass.) "Percy Jackson" will hold up best and could have another $20 million weekend.
Then, there's "Avatar," which actually went up 3% last week when the actual figures came in and will probably gross at least another $15 million this weekend. James Cameron has now actually been forced to come up with new technology to help count his money.
I suspect almost everyone reading this will be checking out "Shutter Island," so let us know what you think. Has the master still got it or should he give up filmmaking and become a film professor/historian? You know where I stand.