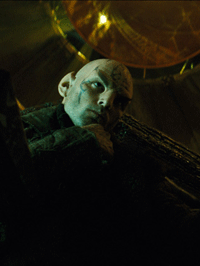 One of the year's biggest blockbusters redefined a franchise and even made it palatable to those unfamiliar with or uninterested in its vibrant history. The film, of course, was "Star Trek," and as below-the-line craftsmanship goes, it was one of the most impressive efforts of the year.
Director J.J. Abrams's mandate was "to renew and refresh, give it back some life," makeup designer Mindy Hall says. "I had never seen any of the movies, but I grew up watching the series. If we were going to use any reference, it was going to come from that. But I didn't want my perspective to be too crowded by looking at the archive stuff."
With a background in watercolors and ceramics, Hall one day happened upon a documentary on the making of Arthur Penn's 1970 film "Little Big Man," which aged Dustin Hoffman nearly 100 hundred years.
A light bulb went off for the young artist. All she knew was that she wanted to do that, to bring that illusion to life.
Hall worked in tandem with costume designer Michael Kaplan on the film. A lot of their references were more fashion related, she says. They flipped through European design books and placed a certain emphasis on emulating on the clean and slick look of science-fiction films of the 1950s and 1960s.  "We weren't trying to do period," she says. "We were just trying to get the flavor of it."
Nearly all of the makeup effects on the film — which yielded an Oscar nomination for Hall, Barney Burman and Joel Harlow — were practical applications. The only time the work interfaced with CGI was on one character, a female doctor with large eyes on board the Kelvin vessel that meets a gruesome demise in the opening scene. But every makeup job, Hall says, had to be done with the utmost care and precision for a variety of reasons.
"The lighting situation was a very high contrast lighting that we had to work with and deal with and change with, with each ship and scenario," Hall says. "So I knew from the very get-go that we were going to have to be really careful with everything we did. There was no room to hide."
To that end, the instructions to the staff were that every creature, every person, every element had to be done for extreme close-ups, including any background characters. The work was rigorous, to be sure, but there were other elements of the process that proved more enjoyable for Hall, including a humorous moment involving Chris Pine's James Kirk character and a pair of inflated hands.
"What's interesting about that is, yes, it's scripted that way, but you don't realize how funny it is until they do it," Hall says. "Chris was able to become so animated. Most actors love the whole process of us changing them into whatever they needed to be changed into. They embrace that sort of external application to their character and it usually inspires them, and Chris is definitely one of those guys."
As dailies for the film began to file into the editing room, something appeared to be horribly amiss for ACE nominated editors Maryann Brandon and Mary Jo Markey. Much of the footage was covered in lens flares and seemed overexposed in some instances. Frantically the two got on the phone with the developing lab.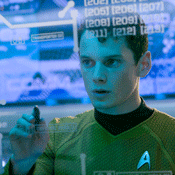 Of course, Abrams had decided to shoot the film in that manner for stylistic reasons. He wanted to give the impression that there was always something vibrant and interesting happening just off screen, adding another dynamic to the environment, perhaps a new dimension of sorts.
He had failed to give his editors the heads up.
"I was like, 'Oh my God, there's something wrong! They don't realize it!,'" Markey says. "But I have to say, for me, I totally think that it adds so much, visually, to the film. I can't get over it."
Says Brandon, "It actually worked out in our favor, because a lot of times the flares added this funny, interesting 3D quality that could help with the cut. Where I thought it would interfere with the actors and the performers, it actually made things more interesting. Visually there was this movement in the frame, which I found fascinating."
Brandon and Markey each handled separate chunks of the film at a time, full sequences, 20 minutes or so, so they could have a good run at the material. "One of the things I think we've learned about each other is that it's a good process," Markey says of her collaboration with Abrams on her sequences. "He already in his head has his take on the scene. I get my take from reading the script and thinking about things and thinking about the characters, and when we come together, this synthesis happens and a third new thing comes out of it."
It wasn't until maybe six or seven weeks into the post-production schedule that these various sequences were assembled into a cut that could be screened.
"J.J. never comes in and says, 'Master Plan,'" Brandon says. "He never sits down and watches a first cut. He just picks a scene somewhere and starts working on cutting that scene, and that's the way it is with the whole film."
For Brandon, the most challenging scene to assemble was the Romulan drill fight sequence.
"We shot it in the upper parking lot of Dodgers Stadium," she says. "It was the only place we could get high enough that we wouldn't see buildings every which way you look. There were challenges. I had to figure out how to get Sulu back on the platform. It didn't really work in the script and was complicated. It was just a visual challenge."
For Markey, an early scene featuring a young Kirk speeding away in his uncle's convertible to the sounds of the Beastie Boys's "Sabotage" was particularly tricky. It was originally scripted as the denouement of a much longer sequence that established the uncle and Kirk's older, rebellious brother. But the pace wasn't working and the narrative was getting bogged down, and early on at that.
"It was a challenge just because we had so much trouble figuring out what it should be," Markey says. "We just changed it to this kid doing this crazy stunt in this car, and I think it does tell a whole story in that little scene, but it took a long time to work all that out."
Veteran sound mixers Anna Behlmer and Andy Nelson came onto the project later in the game than usual. After returning from Australia and another production, there was a time crunch and the team couldn't even do their own prep work and pre-dubbing, a key aspect of the process.
"I was at a disadvantage not knowing what I had, so I spent a lot of time kind of exploring and really isolating and listening to every element," says Behlmer, who handles the sound effects side of things, while Nelson handles dialogue and score. "I wanted to make sure I was going to get the best out of the material that I had."
The duo has a long, esteemed record on top jobs in the industry, including efforts such as "Braveheart," "The Thin Red Line," "Moulin Rouge!" and "War of the Worlds." In fact, in Behlmer's case it should be noted that, while we frequently point out around these parts the fact that mixers Kevin O'Connell and Greg P. Russell have gone criminally unrewarded by the Academy at large, Behlmer now has 10 Oscar nominations without a win.
On "Star Trek," she considered herself lucky to collaborate with someone like Abrams, who is "a big fan of sound," she says. "He loves it and he's really creative about it. He likes things big and exciting, but he also understands the value of having lulls before you have big peaks, because one will make the other stand out more."
That is something she says she's learned from working with her partner Nelson over the years, in addition to the role score plays in the overall mix.
"I'm very aware of music because he's such a talented music mixer," she says. "I'm always listening to a cue before I start doing anything. I want to know where the key changes are and where a hero theme starts or anything specific or emotional that we need to hear, because you need to know where to get out of the way and shape around the music.
"It's also handy to know where you can give it everything, where you can crowd it a bit, but basically understanding story and knowing where it's time for the effects to be big and take over and where it's time to let the music do that. And obviously dialogue is king; we'd like to hear every word."
The final result of all t hard work, of course, was one of the most complete cinematic experiences of the year for audiences across the globe. Drama and action, spectacle and character study play hand in hand throughout, owing plenty to craftsmanship and attention to detail below the line — tech support, if you will.