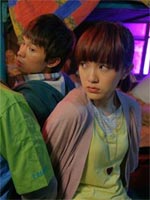 Looking over my Berlinale coverage so far, the thing that surprises me is what a benevolent mood I seem to be in for much of it. By focusing principally on the titles that have impressed (or at least engaged) me, I've rather given the impression of a festival packed with delights.
As good a time as I am having in the German capital, however, I'm afraid that's not exactly the case. All around the festival center can be heard the collected grumblings of critics wondering what on earth is going to win the Golden Bear on Saturday — and not for richness of pickings, either.
The festival's Forum and Panorama strands have served up a number of strong entries, including consensus critical hits like "The Illusionist" and "Kawasaki Rose." And the out-of-competition Sundance repeats have sustained their buzz from last month's wintry festival: "Winter's Bone," in particular, is the title I've heard more in conversations with fellow critics than any other, and scarcely anyone has a bad word for "Exit Through the Gift Shop" or "The Kids Are All Right."
But when the conversation turns to the Competition, the group of 20 films in contention for the Golden Bear, faces fall. "Who the hell is picking these films?" I heard one critic mutter after this afternoon's Argentinean entry "Puzzle," an inoffensive but perilously slight tale of a middle-aged housewife with a passion for, yes, jigsaw puzzles. It at least fared better than today's local Bear hopeful, "Jud Süss: Film Without a Conscience" — I skipped it, but word is that it was roundly booed as the credits rolled at the press screening.
Festival director Dieter Kosslick is no stranger to flak for his programming decisions, but this year's lineup looks to be taking a particular beating. That's not to say no Competition films have been respectably received — Russian entry "How I Ended This Summer," which I unfortunately missed, has the loudest admirers — but most people's chief complaint about the Competition is the lack of range on offer. Dour issue movies are plentiful, with few comedies or genre works (and no animation or documentary) to shake things up a little.
"How is 'The Illusionist' not in competition this year?" a prominent critic (and experienced festival programmer) sighed to me after a screening. "It's artistic, it's beautiful, it's from a recognized auteur and it plays to everyone in the room. Dieter just has no sense of what to look for in a film, and how it will play."
So, if you're wondering why I've only reviewed or discussed four of the titles in Competition this year, there's your explanation. At a festival that offers countless viewing options at any given time, you can choose to doggedly track and predict the contest, but that often comes at the expense of promising films elsewhere in the programme.
But if there are some Competition titles I haven't seen, there are others that I have seen and simply can't muster the enthusiasm to write about. You'll probably never see "Shahada," a dreary, dramatically obvious portrait of Berlin's Turkish community that one colleague succinctly described as "'Crash' for Islam," since it's surely too dull and ill-regarded to nab a U.S. distributor, so why waste review space on it?
Particularly when I can use said space to highlight far more appealing discoveries like USC grad Arvin Chen's debut feature "Au Revoir, Taipei," an infectiously fluffy, gently romantic caper comedy set over one incident-packed night in the titular city. If, at this stage, I'm able to recommend the film less for its story than for its woozy, jewel-toned visuals (betraying Chen's onetime apprenticeship to the late Edward Yang), that's because I made the error of attending a German-subtitled screening for the Mandarin-language film. (As far as Germanic languages go, my rusty Afrikaans only got me so far.)
I look forward to seeing "Au Revoir, Taipei" again, when I can understand more than just the gist of what's going on. Still, the fact that it proved more engaging — even under those circumstances — than several of the Competition films I've seen is pretty telling.
Tomorrow I head back to London in time for BAFTA weekend, though not before catching Michael Winterbottom's controversy-courting noir "The Killer Inside Me" — another Sundance repeat, but the only one apart from "Howl" in the  Competition lineup. Perhaps that will liven this race up.