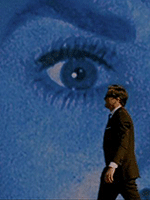 In case you missed the first part of our look at the best shots of 2009, go ahead and catch up here.  Before getting into the top five, however, I'd like to spotlight a few examples that almost made the cut but just missed.
First and foremost, "Inglourious Basterds" is obviously a favorite around these parts.  Robert Richardson, as we've come to expect, offered a wonderful visual context for Quentin Tarantino's story, and though none of the shots particularly spoke to me on a thematic level, it is nevertheless worth pointing out the aesthetic impact of Shoshana's cackling specter projected on smoke and the gripping crane down to reveal a hiding Jewish family in the countryside of Nazi occupied France.
One of the unsung heroes of the season in the field was Greig Fraser, whose soft touch gave Jane Campion's "Bright Star" a beautiful identity.  The shot that has always stuck out for me was Fanny Brawne on her bed, intoxicated with love as a strong afternoon breeze blows in her window.
I was also captivated by the visual aesthetic of Tom Ford's "A Single Man," shot by Eduard Grau.  The disorienting nature of an image featuring a "Psycho" poster always stuck out to me.  It is also worth noting a shot of Jeremy Renner standing in a grocery aisle in "The Hurt Locker," speaking volumes about his character's disposition, lost in a safe world (though lenser Barry Ackroyd was not involved with the U.S. portion of the shoot, it should be noted).  And I always smile when I see the image in "Crazy Heart" of a passerby reflected in the window of Bad Blake's wrecked suburban, rushing down the hill to help.
Finally, Roger Deakins should never go unmentioned in a discussion of cinematography, and what he did on the Coens' "A Serious Man" was trademark organic beauty.  The image that sticks out to me is, ultimately, the final image of a tornado bringing the arbitrary wrath of the film's themes to a tangible form.
In any case, it was, as always, a joy digging through the year's visuals and coming up with this collective.  Even in a weak year for the medium, there are always gems worth spotlighting.  I hope you enjoy the second half, so let's get down to it.
The top five shots of 2009…
#5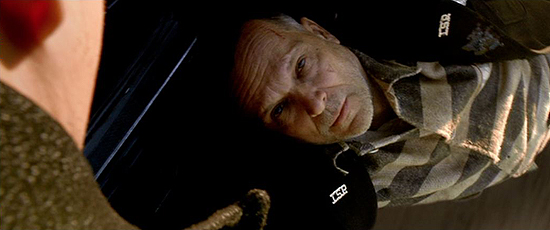 "PUBLIC ENEMIES"
Director of Photography: Dante Spinotti
It was very complicated from the point of view of visual effects.  They rigged the car so that it was trailing sort of a platform on which the actor was lying and there was a green screen on top of it and then shot the background of the road and all the dust.  So it looked like the guy was actually pulled by the car on the road itself.  Dillinger loses his friend and mentor and teacher in this scene and the fact that something goes terribly wrong with the prison break probably sets the tone of the rest of the story.  Criminality was going in a different direction.  The look between the two actors is really wonderful and the moment is definitely very emotional.

–Dante Spinotti
Dante Spinotti first came to America in the early 1980s.  He soon had a professional relationship with producer Dino De Laurentiis, and after a pairing on one project fell through, De Laurentiis told Spinotti, "Don't worry, I'm going to put you together with a talented young director."  That director was Michael Mann, the film was "Manhunter," and the rest is history.
"Public Enemies" marks the duo's fifth collaboration (and Spinotti actually got a call for "Miami Vice," but couldn't commit).  Spinotti's work on the film has largely been debated for the use of digital photography, but none of that really figured in to my perception of one of the best shots of the year.
After breaking his comrades out of prison in the film's early moments, John Dillinger looks on as his friend and mentor is gunned down.  What makes the moment powerful and the image arresting is that the characters get this final, aching goodbye as Dillinger's friend is dragged alongside the getaway car.  I've never seen a shot like that and it became one more reminder that Mann knows how to draw a lot of emotion out of a single unique frame.
#4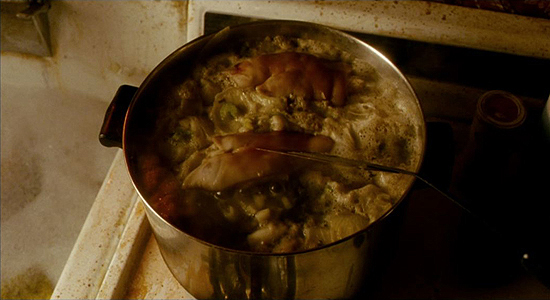 "PRECIOUS"
Director of Photography: Andrew Dunn
A lot of what cinematographers do has a greater meaning than the shot itself.  This shot is of course only of value within the context of the storytelling.  It reflects her situation.  The apartment is a prison and her life is a prison and within that is this prison, this cauldron of bubbling mess.  We were getting ready to move off that set and we knew we needed an actual storytelling point.  It's absolutely imperative that you get these little moments of storytelling.  You don't always know at the time of shooting what will be necessary and valid during the editing process, but it's absolutely vital that you get all the ingredients so that the editor has choices.

–Andrew Dunn
Lee Daniels brought a stylistic sense to "Precious" that few would have anticipated given both the material and his career to date.  But what resulted was a flourish of creative storytelling and an affecting drama that has a singular, penetrating vision.  Much of that vision is owed, in no small part, to British cinematographer Andrew Dunn.
One of the key sets on the shoot was, of course, Precious and her mother's New York apartment.  The goal was to shoot those scenes like the hot bed of tension they were, and one instance early on in the film stuck out to me as an intriguing commentary on everything from stereotypes to health concerns to, most definitely, thematic context.
Dunn's quote above really tells the tale.  The shot is deceptively simple: a boiling pot of pig's feet.  But what seems like a simple cutaway insert holds so much more information, and its usage in the editorial flow of the scene becomes a mark of detail-oriented visual storytelling.
#3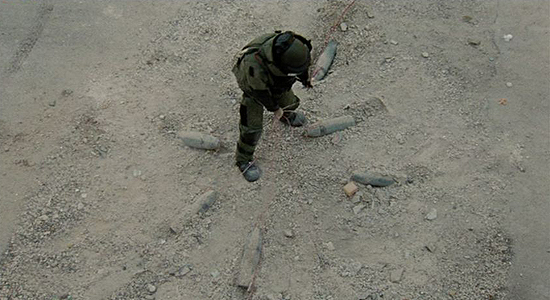 "THE HURT LOCKER"
Director of Photography: Barry Ackroyd
It's very informational in a lot of ways.  It's kind of a symbolic image as well, which I think gives it its strength.  The obvious thing was to show this from above to give this kind of web surrounding him, which I think is metaphorical for his position, but also the moment of ecstasy at the center of this thing, it's like he's caught in a spider's web.  And it's almost like an impossible place to be, so I think it's a little bit mystical as an image.  You wouldn't get yourself in the center of such danger, but that was obviously the character.  He was prepared to do that, which made him different to the other guys, and I think ultimately that's what the film's about.

–Barry Ackroyd
Lenser Barry Ackroyd started his career back in the early 1980s.  After paying his dues in the world of television, he hooked up with director Ken Loach for a number of projects before finally breaking onto the scene Stateside with Paul Greengrass's "United 93."  And it was that film, in fact, with its blend of intimate drama and guerrilla-like docudrama filmmaking that caught director Kathryn Bigelow's attention.
With "The Hurt Locker," Ackroyd worked with Bigelow to develop a singular frenetic style meant to emulate the high tension of the profession being dramatically documented.  But the image that stood out as iconic in the face of all of those multiple cameras and set-ups was a calmer perspective, and one that helped to define the visual identity of the film.
Staff Sergeant William James, stuffed into an ominous bomb suit and having diffused one IED already, discovers he's not out of the forest yet.  As he yanks on a chord connected to a slew of other devices, he lifts the arrangement out of the dust, yielding one hell of a gasp-inducing moment.  Intriguingly enough, given the weight of a typical IED, this is something a man wouldn't have had the strength to do, but it makes for high visual drama nevertheless.
#2
"THE COVE"
Director of Photography: Brook Aitken
We had four hours and five minutes of drive time.  It was a prototype camera, then we had to have a battery specially made.  So the inside of this camera, the lithium batteries were around it, so it looked just like dynamite.  We tried it once and it didn't work because we had gotten it too early, and the second time we got it, it happened in the last five minutes as we were running out of hard drive space.  It's actually a dissolve.  We sped it up so that probably about a minute and a half got reduced to maybe five seconds.  We didn't mess with the color at all on that stuff, and that honesty was really important to me in that shot.

–Director Louie Psihoyos
Louie Psihoyos's "The Cove" was a feat of cinematography from the get-go.  The film is, after all, about a covert operation to capture vital footage that could galvanize and help start an activist movement.  The planning that went into getting that footage, the building of casings to hide cameras, the prototypes unitized in order to get large amounts of digital footage, is an undeniable accomplishment.
One image in particular really stood out to me when I first saw the film, as I'm sure it did many others.  One of the underwater cameras captures, in stark detail, a flood of dolphin blood filling the screen and turning the water crimson red.  The impact is helped along, no doubt, by the use of audio over the shot, the screams of terror from the dolphins filling the soundtrack.
Psihoyos put together a wonderful team for his film and much credit should be given, obviously, to DP Brook Aitken.  But when it came to this particular moment, I thought it would be best to get the director's perspective, given the overall guerrilla group effort.  And being a former National Geographic still photographer himself, I knew he would have plenty to offer to a discussion of one of the film's most arresting visuals.
#1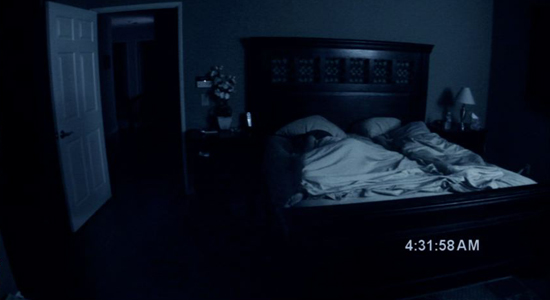 "PARANORMAL ACTIVITY"
Director of Photography: Oren Peli
I literally spent months playing around with it and tweaking it, finding the right angle and the right colors, the right filters.  It took a lot of effort.  Once I got the positioning I had to figure out the lighting.  It had to look natural but not like we were trying to be creepy.  So I had to create a source of light that allows you to see what's going on but not too clearly.  I took a light and put it in the corner facing the wall, used filters to give it a little more bluish look and increased the contrast a little bit more.  I knew this was going to be the standard shot we were going to use.  I didn't want to keep using different shots with drastically different angles.

–Oren Peli
The year's DIY success story also happened to feature one of the most effective images of the year.  Oren Peli's "Paranormal Activity" was certainly no traditional production, with a handheld camera and a few actor friends filling out the crew.  The director himself essentially served as his own cinematographer, though mostly it was the job of actor Micah Sloat to capture the film in a home video fashion.  One shot in particular was a bit of an exception, and it immediately became the visual identity of the film.
A standard still image used in the narrative to capture what is happening to a haunted couple as they sleep at night, the composition accomplished so much with minimal lighting, some creative production design and a wide angle lens.  To the right, you have your sleeping couple, to the left, a door and, further, a hallway that plays an integral part in the plot.  However, it is one thing to be efficient with the way you choose to shoot a scene.  It is another thing entirely for your composition to take on a life of its own, capable of raising the hairs on the back of one's neck as a simple production still.
That is what Peli managed with his shot.  He tried a few different things after renovating the house for his purposes, like placing the bed on the wall to the right, for instance.  But ultimately he settled on this composition, and it couldn't have been more perfect.  It is, for my money, the best shot of 2009.
And that does it.  Another year charting the greatest images in film comes to a close.  I'm sure there are plenty of opinions out there, so feel free to cut loose with your own list below!
***
The Top 10 Shots of 2018
The Top 10 Shots of 2017
The Top 10 Shots of 2016
The Top 10 Shots of 2015
The Top 10 Shots of 2014
The Top 10 Shots of 2013
The Top 10 Shots of 2012
The Top 10 Shots of 2011
The Top 10 Shots of 2010
The Top 10 Shots of 2009
The Top 10 Shots of 2008
The Top 10 Shots of 2007