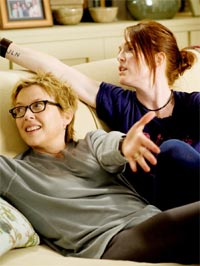 Berlin International Film Festival
A spry, sun-bleached and often rather sexy study of what makes a family in modern America, "The Kids Are All Right" breezes by so pleasurably it's easy to forget what a daring and very necessary film it is. Gift-wrapping its smart sexual politics with kicky dialogue, bright visuals and a pleasingly messy tangle of relationships, Los Angeles-born auteur Lisa Cholodenko's fourth (and finest) feature is her most mainstream to date, but makes a virtue of those concessions.
Since its deservedly buzzy Sundance premiere, you've probably already heard "The Kids Are All Right" described ad nauseum as a lesbian – or perhaps more coyly, liberal – drama. With the film having been adopted by Focus Features, who recently had success with "Brokeback Mountain" and "Milk," it seems likely the tag will stick, particularly if award season beckons.
But such a label, however well-intentioned, does a disservice to Cholodenko's admirable avoidance of social tract. Rather than hectoring its audience to accept its characters as normal, this film goes one better by doing just that, and not commenting on the matter any further.
Indeed, "The Kids Are All Right" is that rarest of beasts in American cinema – a film centered on homosexual characters throughout which nobody encounters so much as a raised eyebrow or a whisper of prejudice. Admittedly, we're in plush L.A. suburbia here, not the red-state heartland, but in light of the recent Proposition 8 fiasco, Cholodenko wouldn't have had to look further afield to comment more overtly on intolerance.
The conflict in Cholodenko and Stuart Blumberg's rich, barbed screenplay comes instead from sources universal to domestic drama of any persuasion: as a portrait of the irregular long haul of marriage, the self-bewilderment of middle age and a teenager's first inklings of adulthood, the film should be wincingly relatable to anyone who has been in a nuclear family.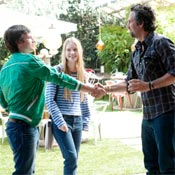 Julianne Moore and Annette Bening play Jules and Nic, a fortysomething couple who have, over the course of two decades, crafted a comfortably conventional family environment for their two teenaged children, precocious high-school grad Joni (Mia Wasikowska) and jockish younger brother Laser (Josh Hutcherson). Each child the product of artificial insemination with one of their mothers, they have survived as a content family unit until 15 year-old Laser's curiosity about his biological father throws a spanner in the works.
Unbeknownst to "moms" (the kids amusingly refer to them in singular form), Joni and Laser do some digging, and are quickly led to one-time sperm donor Paul (Mark Ruffalo), now a hip organic restaurateur. A laidback bachelor beginning to feel commitment pangs, Paul is only too eager to attach himself to this newfound family, and it's not long before all three parents meet.
But while Nic maintains a hostile resistance to this interloper, the easy rapport Paul builds with Joni and, less expectedly, Jules makes explicit long-simmering resentments and fragilities within the family.
Cholodenko takes full tonal advantage of this richly complicated set-up, veering from confrontational dramatics to frisky bedroom farce without ever pushing her characters into territory that feels ill-fitting or unreasoned.
She is, of course, aided in her efforts by an immaculately cast ensemble, with all three principals in rude form. Ruffalo's dude-ish charm hasn't been applied to a character with quite such intelligence and irony in some time, while, playing the more prickly, professional half to Moore's flighty stay-at-home mom, Bening has happily found a role that both accommodates and softens her trademark stridency.
Bening perhaps relishes Nic's sour asides a little too theatrically in some early scenes, but finds deeper resources as the character loses her composure, peaking with a stunning, silent reaction scene to her wife's own emotional outpouring.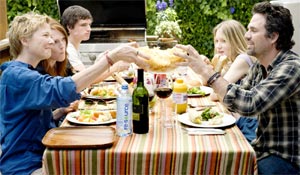 Best of all, however, is Moore, released from a recent run of roles that have boxed her (however effectively) into nervy constructs of femininity. Here she's genially, even goofily, vulnerable as a woman faintly aware that she has outgrown the hippy idealism of her youth, but hasn't settled on a suitable persona with which to replace it. Moore has never been looser or funnier on screen – a hilariously spacy response to an accidental kiss is a priceless Oscar-clip moment – which only makes her sober emotional self-effacement all the more startling when it comes.
As the film heads into awards season following a summer release, talk will presumably build about which of the women leads the film, but any such debate should be nipped in the bud: Moore and Bening are as democratic a partnership as the characters they play, each performance informing the other to an equal extent as they intricately map out their roles in the parenting game.
That said roles are so swiftly identifiable to the viewer is, in part, the principal triumph of this vastly entertaining and laudably generous film: lesbian, liberal or otherwise, we can all see ourselves in these characters, sometimes unflatteringly so. Hewing to the maxim of catching more flies with honey, "The Kids Are All Right" makes normality its  best argument for tolerance.