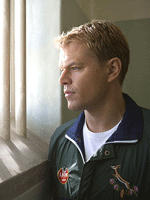 In a slight rarity, the year's Best Supporting Actor category reflected the Screen Actors Guild nominees 100% this season. Nominations for Alfred Molina and Alec Baldwin at the BAFTA Awards weren't enough to generate enough cross-over support, while Christian McKay's late surge couldn't get him there, either.
What we're left with is a sleepwalking performance in a dud movie, a spellbinding portrayal from a consistent performer in an indie awards success story, the first nomination for one of the screen's legends, a tip of the hat to an actor who showed a wide range this season and a multi-lingual piece of work that began its awards run way back at Cannes.
The nominees are:
Matt Damon, "Invictus"
Woody Harrelson, "The Messenger"
Christopher Plummer, "The Last Station"
Stanley Tucci, "The Lovely Bones"
Christoph Waltz, "Inglourious Basterds"
Like Best Supporting Actress, the field of supporting acting contenders is likely just sitting back waiting on the inevitable on Oscar night. But at least two of the nominees deserve a fairer shake than that and, in any other year, may have had an angle on this thing.
Matt Damon, however, is not one of those examples. His performance in "Invictus" seemed like a no-brainer on paper, which led to months of sight-unseen predictions that he'd be chalked up right alongside co-star Morgan Freeman. As the captain of South Africa's Springbok Rugby team who was galvanized by the country's recently liberated leader, Damon had a prime opportunity. Then the movie came and, save for a few who must have seen something else entirely, it underwhelmed. Damon's performance was a large part of that disappointment, not just because he didn't hit the notes one might have expected, but because he seemed to be merely a part of the scenery, barely registering a note. And yet, his brilliant turn in "The Informant!" goes unrewarded. Stunning.
In "The Messenger," actor Woody Harrelson brought his A-game like never before. He owes a bit of his success this year to co-star Ben Foster, who proved to be an amazing partner on screen. But Harrelson's moment, and the one that likely sealed the deal for many awards-giving bodies throughout the year, came during the film's final moments as he reacts, quite emotionally and quite authentically, even, to a harrowing story from Foster's disturbed soldier. This at the end of a performance that showed equal parts stiff-upper-lip professionalism, hard-assed soldier sincerity, easy-going off-the-clock affability and internalized sorrow for the news he wakes up every day to deliver to unsuspecting families around the country. He might have been a frontrunner in another season.
That Christopher Plummer only landed his first nomination in 2009 is, anyone would agree, unbelievable. At the very least he should have been here — and holding a statuette — in 1999, but alas, he remained without Academy recognition throughout his career. The recognition finally comes for "The Last Station," with Plummer taking on a lion of a role in legendary author Leo Tolstoy. Plummer stalks the screen with a lust for life, but he balances that with the heavy heart of a man considering signing away his life's work to the public domain in the interest of his ideals. And like fellow nominee Harrelson, Plummer had a wonderful sparring partner. He and Best Actress nominee Helen Mirren engage in a wonderful screen romance as fiery as it is loving.
Peter Jackson's "The Lovely Bones" was murdered upon arrival from a critical community seemingly oblivious to anything deeper than the screen itself. And that's fine. But thankfully, Stanley Tucci managed to make it through the season unscathed. As a positively creepy pedophile murderer, the actor was brave merely to have taken on the part. But he proves quickly in the film that he has the chops to flesh out a monster such as this in soft tones that register. The cadence in his voice, the mannerisms he develops for the character, every nuance seems to add to the icky experience of watching him on screen. The work is all the more impressive when considered alongside his work in another film, "Julia & Julia," which saw the actor gushing love, adoration and pride for his wife, Julia Child.
And with all that breathless consideration of the other nominees in the field, it all seems fairly moot, as Christoph Waltz is more than likely our victor walking away. In "Inglourious Basterds," Waltz takes the role of Hans "The Jew Hunter" Landa by the horns, delighting in the character's intimidating atmosphere and putting forth, truly, one of the great modern villains of the cinema. Quentin Tarantino has called it a difficult role to cast because of how specific it was, a man who speaks French, German and Italian within the context of the narrative. And Watlz pulls it off seamlessly. Audiences in Cannes were the first to get a look and he walked off The Croisette with an acting honor for his troubles. Little did we know he would go on to steamroll the season.
Will win: Christoph Waltz, "Inglourious Basterds"
Could win: Christopher Plummer, "The Last Station"
Should win: Christoph Waltz, "Inglourious Basterds"
Should have been here: Alfred Molina, "An Education"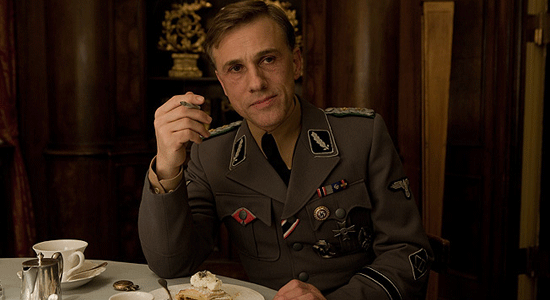 Who do you think deserves to win the award for Best Supporting Actor? Have your say in today's sidebar poll!