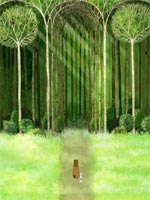 I think it's fairly inarguable that this year's most unexpected Oscar nomination was the deserved Best Animated Feature nod for "The Secret of Kells," the Irish festival creeper that some journos even admitted to not having heard of. If you had your money on that one, you have my respect in addition to your fortune.
But behind every Oscar surprise that nobody sees coming lies a lot of planning and calculation: this Wall Street Journal piece looks at how fledgling distributor GKIDS stealthily orchestrated the film's nomination.
Specializing in high-end family fare, GKIDS was founded a year ago by Eric Backman, with the objective of landing an Oscar nomination within two years. He's now one year ahead of schedule, thanks to a passive campaign relying on the film itself to generate buzz.
The piece explains:
GKIDS signed the deal only days before the deadline for Oscar applications. "It was a choice to go for this year or next year's Oscars," Beckman said. "We thought we'd seize the opportunity."

The company set up private screenings at studios like Pixar and Disney and circulated advance screeners. But going against industry convention, GKIDS decided not to mount an expensive ad campaign. Instead, they relied on word-of-mouth and the strong support the film had among animators, who have praised the hand-drawn illustrations and unique visual style of the film's director/animator, Tomm Moore.
It's always heartening to hear of a word-of-mouth nomination that succeeds. The film made the five for the simple reason that nearly everyone who takes the time to see it is impressed at least by the craft of it. "Craft," I suspect, is a key word in this instance — it's easy to forget that the professionals in the Academy's animation branch often value different aspects of an animated project than a critic or casual viewer would.
When an upset occurs in the nominations of this still-young category — think "Surf's Up" pipping "The Simpsons Movie" in 2007, or "Waltz With Bashir" missing the cut in 2009 — it tends to suggest an emphasis in voters' minds on technique over storytelling. "The Secret of Kells" follows this pattern: there's nothing especially wrong with its sweet, slightly staid narrative, but the film is primarily a visual feast that fellow animators marvel at. The category is certainly a great deal more interesting for this well-planned surprise.