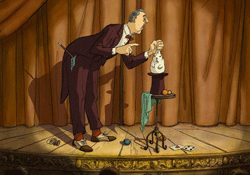 Berlin International Film Festival
It took six days and an awful lot of films, but the Berlinale has finally turned up a masterpiece. Moreover, it's a rare case of one of the fest's most eagerly awaited titles managing to meet, and even subvert, expectations.
"The Illusionist," French animator Sylvain Chomet long-gestating follow-up the 2003 Oscar nominee "The Triplets of Belleville," confirms a truly singular auteur sensibility, while revealing a more disciplined artist and storyteller within. A streamlined character study, less deliriously eccentric in tone and structure than his debut feature, "The Illusionist" nonetheless boasts an emotional heft that handsomely repays its creator's restraint.
Those who have been following the project will already know the reason for the newfound calm in Chomet's quirk. "The Illusionist" is based on a previously unfilmed script by the late comic master Jacques Tati, and the film plays as a fascinating across-the-decades collaboration between two distinct voices (though given their shared preference for amusingly garbled dialogue, perhaps "distinct" isn't the word) of French comedy: the tangling of Tati's genial situational humor with Chomet's more extravagant flights of fancy proves mutually enhancing.
The ghost of Tati isn't merely present behind the screen, but on it: the illusionist of the title is Monsieur Tatischeff (Tati's real surname), a low-rent traveling magician whose loping gait and consistently doleful expression recall both the director himself and his most famous screen creation, Monsieur Hulot.
Tatischeff's rabbit-and-hat act outmoded in rock 'n' roll-crazy 1950s Paris and London, he accepts a gig in a dead-end Scottish village. There, guileless young local Alice is sufficiently enamored of his "magic" to stow away with him to Edinburgh, her dreams of a better life pinned on his cheap sleight of hand. If that pitch sounds sentimental, that's because the film is quite proudly so: if Tatischeff is a Hulot substitute, Sophie is a wide-eyed waif of the Chaplin school, and her journey towards womanhood is a shamelessly quaint heartbreaker of a story arc.
One could argue for it as a kind of anti-love story between two disconsolate souls, a child's-eye "Lost in Translation" of sorts, but if anyone (or anything) is the recipient of a valentine in the film, it's Edinburgh itself, the city's every crevice rendered by Chomet's animators with breathtaking beauty and attention to detail. (Any previous visitor will have a field day playing 'spot the location.')
Indeed, the film as a whole is an astonishing animator's showcase: the jazzy, angular figures of "The Triplets of Belleville" are still present and correct, but in place of that film's spiky visual textures and beigey palette is an exquisite, pastel-toned watercolor aesthetic, suggestive of the classic animation of the film's own milieu.
Animators not already charmed by the affable storytelling can't fail to impressed by its dazzling technique; even this early in the year, the film looks a strong threat for a 2010 Oscar nod. Either way, "The Illusionist" is a thrilling fulfillment of promise.