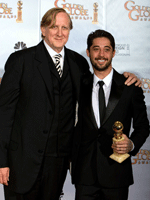 This is a bit outrageous.  Mike Fleming is reporting at Deadline Hollywood Daily that the original song nominees will not be asked to perform the tracks on the telecast:
Explanations include that the songs never delivered ratings, and that is what this Oscarcast is all about. That not having the big production numbers will move the show along. That it will save money for distributors, who eat most of the costs (up to 7 figures) of schlepping singers in. That unless a song by Bruce Springsteen, Celine Dion, Sting or U2 were nominated, most of the worldwide audience is hearing the tune for the first time when it is sung. I mean, can anybody besides Tom Bernard or Michael Barker from Sony Pictures Classics hum a few bars of "Loin de Paname" from Paris 36?
Dear Academy: I don't think we can possibly bend over any further.
With my own ears I have heard Shankman say the nominees are "terrible," the indication more about what livens up a show rather than what makes for a quality original track in a film, mind you. But if you read further down Fleming's report, you'll see that Shankman and Mechanic have apparently considered bringing in people like Taylor Lautner and Channing Tatum to reach a younger audience, and that Shankman's little dance choreography project may include contestants from the Fox show "So You Think You Can Dance?"  Shankman serves as a judge on the show.
Can you say conflict of interest?  And hey, the People's Choice Awards has a lot of this stuff covered already, guys.
Who is most hurt by all of this?  In my opinion, Ryan Bingham, who was set to reach a massive new audience and perhaps kick-start his career to the next level (a level he deserves).  All of this reeks of a certain lack of creativity, too.  There are so many ways to have worked this out, any of them (certainly) more fetching than, say, Bob Dylan performing via satellite.  This has always been a nice way to break up the telecast, so at this rate, you might as well eliminate the category altogether.
But enough about what I think.  Do chime in yourself.