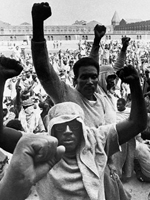 This announcement will hit via press release in the trades tomorrow (EDIT: Strike that, it looks like the release has now gone out, maybe due to this early report.), but since the news has already appeared in the form of a blog post last month from director Doug Liman, and since I confirmed it with Geoffrey Fletcher during a telephone interview this afternoon, I don't see the harm in jumping the gun.
The "Precious" screenwriter will follow up his Oscar nomination with a script based on the Attica prison uprising for Liman.  The project was set up in December and is a personal endeavor for the director.  Liman's father, Arthur L. Liman, was the young lawyer who ran the investigation during the uprising.
The ultimate report was "a riveting page-turner," Liman says in this 30ninjas blog entry.  "But the people whose job it was to prosecute the crimes wanted my father to reveal who had admitted to what. When my father refused, they threatened to hold him in contempt of court and throw him in jail."
Liman and Fletcher recently took a trip to Attica for research purposes, which supplies the meat of that blog entry.  When I spoke to Fletcher this afternoon separately for "Precious," he told me that it'll be "a lot of work" digging into this material, but that he's very much looking forward to it.
Fletcher's story is a wonderful one, that of a writer somewhat removed from his true passion after dealing with a Catch-22 industry who finally got his shot in the form of "Precious." I'll have much more on that tomorrow when I post an in-depth interview with the writer.
In the meantime, I must say I'm very much looking forward to Liman's personalized vision of Attica.  With a talented, award-worthy screenwriter like Fletcher on board, perhaps it will prove to be the film that elevates the director above the ranks of commercial entertainment and into a realm of more substantial filmmaking.  I love "Swingers" and "Go" as much as the next guy.  The last decade of output, not so much.
A Valerie Plame film, "Fair Game," is already in the can from Liman, while a sequel to "Jumper" has long been announced.  But I've always thought he had more to offer.  This will be a wonderful opportunity.