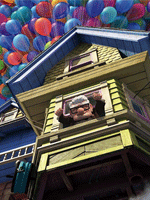 This year marked the first year in recent memory that the Motion Picture Sound Editors offered up its list of nominees prior to the Oscar nominations announcement rather than after. Generally that batch of tea leaves is therefore elusive for those of us looking for indicators along the way.
Nevertheless, there wasn't a huge shift in ideology form the mixing field to the editing field. Four films crossed over while the one that pushed through here certainly isn't as deserving as the one that was nixed, but c'est la vie. I get the feeling there was some chummy autopilot voting going on there, but it's a relatively solid batch of competitors anyway.
The nominees are:
"Avatar" (Christopher Boyes and Gwendolyn Yates Whittle)
"The Hurt Locker" (Paul N.J. Ottosson)
"Inglourious Basterds" (Wylie Stateman)
"Star Trek" (Mark Stoeckinger and Alan Rankin)
"Up" (Michael Silvers and Tom Myers)
Predicting the way those in the field would see this race and the way the Academy at large sees it are two different tasks. The membership outside of the branch certainly has no clue what good sound editing is, or even what the difference is between sound editing and sound mixing. That's why you can generally depend on either the most popular film or a tech-heavy, respected blockbuster.
That blockbuster this year is obviously "Avatar," which could well win here even if it misses in the sound mixing arena. That's not to say it's overly deserving, mind you, because while the soundscape invented for the film is wonderfully unique (plenty of military machinery and indigenous fauna to map out sonically), it didn't really stand out as particularly creative. Still, one can't take away from the overall accomplishment, and when you get right down to brass tacks, that's what most will be awarding as they go through their ballot and begin to tick the film off throughout the crafts categories. This is Gwendolyn Yates's first trip to the dance, but Chris Boyes is now a 13-time nominee who has headed up the sound effects duties on a number of the industry's biggest productions of the last decade.
Assuming a victory for James Cameron's film, that means a split is in the works, leaving my predicted sound mixing winner coming up empty-handed here. Paul Ottosson, like Boyes, was on sound editing and mixing duties for "The Hurt Locker," which went to great, sometimes unheralded lengths to whip up a sound environment that put the audience right into the mindset and world of a tension junkie in uniform in the hot desert sun of Iraq. War films tend to fare well here, with recent winners including "Letters from Iwo Jima," "Master and Commander: The Far Side of the World," "Pearl Harbor," "U-571" and "Saving Private Ryan." So it could be a photo finish when all is said and done. There are certainly a few moments when the effects are showcased, but they aren't necessarily prevalent throughout.
Slipping in over a frankly more deserving sci-fi entry here was "Inglourious Basterds," the work coming from five-time nominee Wylie Stateman. Stateman has actually become, for me, a perennial surprise in the category, popping up for "Memoirs of a Geisha," "Wanted" and now Quentin Tarantino's ultra-revisionist history lesson. The effects in the film played well into the overall mix (which I'd be quicker to praise), but I'm a bit baffled as to what members of the branch saw in it to overlook some quality work that was much more creative and effective. Regardless, this is a favorite throughout the branches, so some love here isn't all that shocking. I wouldn't look here for a spoiler, though, but it is a war film of a sort, no? Then again, so is the frontrunner, so let's not overthink it.
As in the sound mixing category, for me, the best work in the sound editing field this year was "Star Trek." Mark Stoeckinger is making only his second trip to the Oscars, while co-nominee Alan Rankin is a first-timer. That makes the work all the more impressive before you get to consideration of the amazing palette of sounds they manifested for Anna Behlmer and Andy Nelson's superb mix. Joe Letteri has said the film showed us, effects-wise, a space environment like we've never seen it before. But I would also say it showed us a space environment like we've never heard before. There's a playful balance going on between what might be expected in that environment and what makes for effective work on a spectacle scale. If voters are looking for some diversity, they could do a lot worse.
The other slight surprise was a nomination for Pixar's "Up." Some are quick to point to the studio's track record but the fact remains, films like "Finding Nemo," "The Incredibles" and "WALL-E" offered anything but the more intimate, reserved sound editing of their latest. And that's not just coming from me. I've heard it from those in the profession as well. Nevertheless, the work was still of a small piece with the quality sonic experience for which Pixar films have come to be respected. But don't get any ideas. Last year, for instance, was the perfect opportunity for the Academy at large to recognize a truly deserving entry from the studio, and they opted for the respectable blockbuster instead (while opting for the overall favorite in the mixing field). So that's frankly how I'm expecting things to play out once again this year.
Will win: "Avatar"
Could win: "The Hurt Locker"
Should win: "Star Trek"
Should have been here: "District 9"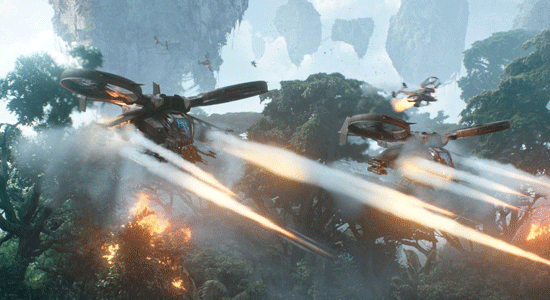 What do you think deserves to win this year's Oscar for Best Sound Editing? Have your say in the sidebar poll!