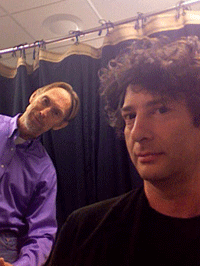 Intrepid publicists worked diligently last month to float the idea that Wes Anderson's "Fantastic Mr. Fox," due to it's healthy critics awards take, was in a position to upset the presumed frontrunner in the animated feature category: "Up." Of course, at the time, no one in the media helping that story along bothered to point out that, well, the opinions of the critics don't matter a whole lot when it comes to how the Academy votes at large.
Left in the cold a bit during that discussion was "Coraline," which opened way back in February — a full year ago — and maintained a steady course through the spring, summer and, eventually, the awards season.  In fact, given the evidence presented by the Annie Awards, it's possible that Henry Selick's film would have a leg up on "Fantastic Mr. Fox" as the true competition in a field many have already chalked up to the Pixar contender.
I spoke to Selick earlier in the season and Gaiman quite recently about their work on the project.  Gaiman had Selick in mind from the beginning, dating back to his first viewing of "The Nightmare Before Christmas" 16 years ago, while Selick put a lot of trademark care into fleshing out a tangible world from Gaiman's words.  The result is one of the finest animated films in a banner year for the medium.
The rigors of the season being what they are, I haven't the time to write up a proper interview piece around these two conversations.  But I didn't want the information to go unpublished.  So have a listen to each below.  You'll note in the Selick conversation that, once upon a time, I was considering the film for a Tech Support Interview.  It would have been lovely but sometimes things don't come together like you expect.  Still, it was a pleasure speaking to both and I think fans of the film will really enjoy their perspective.
Neil Gaiman:
Audio clip: Adobe Flash Player (version 9 or above) is required to play this audio clip. Download the latest version here. You also need to have JavaScript enabled in your browser.
Henry Selick:
Audio clip: Adobe Flash Player (version 9 or above) is required to play this audio clip. Download the latest version here. You also need to have JavaScript enabled in your browser.