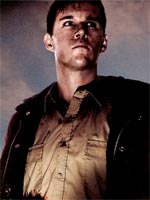 Film festivals have a curious way of either dulling one's critical faculties or provoking them to an impolite degree. I almost never walk out of a screening under normal circumstances; at a festival, while compressing five-odd films into one day, it's almost life-affirming to do so.
Such was the case yesterday, halfway through "Caterpillar," a Competition entry from widely admired Japanese veteran Koji Wakamatsu. An apparent Oshima knockoff combining catatonic narrative inertia with visual dinginess, it centers on a mute, limbless Sino-Japanese War vet rebuilding his relationship with his wife: "rebuilding his relationship" being a euphemism for working his way through the paraplegic Kama Sutra.
After a sufficient number of po-faced sex scenes, interspersed with shots of cherry-blossom to indicate the passing of seasons — the film, it seems, was edited with a blunt axe — Tim turned to me and whimpered, "I can't take it anymore." We bailed and headed for "Gentlemen Broncos" instead; and you know now how that worked out.
The film has its champions, mind. And I'm now convinced it will win something on Saturday just to spite me. After the cut, however, are three films I happily sat through in their entirety.
"PLEASE GIVE" (***)
Trying to gauge advance word on Nicole Holofcener's latest Sundance-stamped comedy of manners "Please Give," I rarely got any further than, "Well, you know, it's a Nicole Holofcener film." And, lo and behold, it is a Nicole Holofcener film, with all the pleasures and occasional shortcomings that entails: fine-tuned work from a hand-picked ensemble, wry observations on class, money and body image, and a slight narrowness of focus that renders the film thoughtful but never quite powerful.
Catherine Keener plays Kate, a wealthy New York furniture dealer plagued with guilt over her social privileges, but desperately uncertain as to the right way to give back to the community. Her husband (Oliver Platt) is amused by her concerns, while her sullen teenage daughter (Sarah Steele) is the only one to call Kate on her hypocrisies; matters worsen when Kate involves herself with the wary, less fortunate family of a dying neighbor.
Holofcener has astute points to make on the occasional vanity of charity, and makes them most effectively when she pushes scenes beyond the bounds of gentle everyday behavior and into ruder comic territory. (A ghastly dinner party where unspoken conversational rules are heedlessly broken is the film's dramatic high point, with a particularly relishable turn from Amanda Peet as a sour, perma-tanned beautician.)
But she sometimes falls into easy, on-the-nose ironies recycled from her previous work; it'd be nice to see her take a different thematic tack next time.
"RED HILL" (***)
Five years ago, the Australian horror scene struck gold with "Wolf Creek," a merciless little chiller from first-time director Greg McLean that split critical opinion but did tidy indie business. They may have another crossover success on their hands with "Red Hill," a witty, tightly wound western-slasher hybrid that marks another promising debut, this time for writer-director-producer-editor Patrick Hughes.
McLean may carry an executive producer credit here, but the film is a warmer, jokier affair than "Wolf Creek." Ryan Kwanten (of "True Blood" fame) headlines as a wet-behind-the-ears police officer reposted to a one-horse Outback town, whose first day on the job coincides with the arrival of a indestructible Aboriginal manhunter, bent on revenge against the sheriff who put him behind bars – and any human being he encounters along the way. Meanwhile, a man-eating panther is also rumoured to be on the loose.
Of course, this daft premise is but a foundation for a series of sweat-inducing suspense sequences, expertly wrought and leavened with a nice line in broad Down Under humor. Kwanten is engaging company on screen, and the film fair whips by until a protracted, slightly banal finale that deflates the tension with one too many expository reenactments. That isn't enough to diminish its scrappy, implausibly low-budget charms; Hughes is plainly one to watch.
"SUBMARINO" (**1/2)
Arthouse acolytes hoping for Dogme veteran Thomas Vinterberg to equal 1998's superb "The Celebration" should stop holding their breaths, if they ever were — he hasn't. "Submarino" is no celebration itself, either: an almost perversely grim account of estranged brothers living out the after-effects of a childhood tragedy, it crams cot death, rape, poverty, prison, alcoholism, heroin addiction and more family fun into one relentlessly uncheery package. (Submarines, however, do not feature.)
None of which would be bothersome if there was some thematic end to this misery, but the film hasn't much to comment on the onscreen suffering beyond the fact that it exists. With that said, it's still an overwhelming and sporadically impressive film, aided by an intriguingly staggered structure and a quietly potent lead performance from up-and-comer Jakob Cedergren (currently on screens to equally strong effect in "Terribly Happy").  Vinterberg has brought with him the severe intelligence and purposeful technique that marked "The Celebration," but that film's bleak humor would be a welcome guest next time.
Later: Thoughts on "The Illusionist," Sylvain Chomet's remarkable follow-up to the 2003 Oscar-nominee "Belleville Rendezvous."