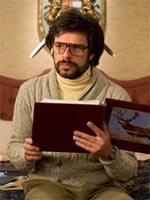 The film is history across the pond, but having just seen Jared Hess's "Gentlemen Broncos" in the Generation strand of the Berlinale, I feel obliged to briefly counter the thoroughly undeserved critical and commercial kicking the film received back in fall 2009.
Because I'm astonished to find Hess's creatively chaotic stew of literature, movies-within-movies and vintage power balladry the most sweet-natured and most consistently hilarious comedy of last year.
I was never a "Napoleon Dynamite" disciple. And in light of reviews even harsher than those for the dire "Nacho Libre," it's fair to say I wasn't looking forward to Hess's latest. Indeed, I wasn't planning on seeing at all; I only ducked in to seek refuge from the embarrassing Competition entry I'd walked out of next door. (More on that later.)
So I can barely express my surprise upon discovering an imperfect, but warmly nutty and curiously moral, film, accented by delightful design work, inspired soundtrack choices (Zager and Evans's "In the Year 2525" is going to be on loop in my head for approximately a week) and a pitch-perfect ensemble — with Jemaine Clement's truly ingenious performance as preening (and deeply untalented) sci-fi author Dr. Ronald Chevalier the pick of the litter.
It's a performance of gleefully precise eccentricity, both in physicality and phrasing — Tim Robey and I are still trying to figure out from which 1950s British matinee idol he borrowed Chevalier's fruity drawl. (It's not James Mason, but it's close; answers on a postcard, please.) The memory of his phone greeting alone (just his surname, every syllable drawn out and lasciviously fondled) is going to provide me with endless cheer on dreary days, I'm sure.
In my crazy perfect world, he's a handy Best Supporting Actor runner-up to Christoph Waltz (and given that I put Waltz in lead on my personal ballot, I guess the hypthetical Oscar goes to Jemaine Clement). So good on the Independent Spirit Awards for recognizing him where no one else would. I'll be rooting for him on March 5.
Sorry, just had to get that out of my system. Carry on.