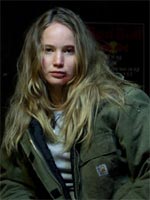 Yesterday's viewing roster just about had me double-checking whether I was at the right festival, as I was treated to a pair of Sundance hits, in addition to a brand-new Amerindie feature from a Sundance alumnus. The copious snow still smothering the sidewalks of Berlin only aided the comparison.
Perhaps it was Valentine's Day spirit making me more benign – apparently against the current of critical opinion, in the case of Noah Baumbach's "Greenberg" – but all three films, moreover, afforded me pleasures of varying degrees. (And definitions: "pleasure" is not the most appropriate term for a film as severe as "Winter's Bone.")
"WINTER'S BONE" (***1/2)
In 2004, NYU film grad Debra Granik spun a student short into a ragged but confident debut feature, "Down to the Bone," that landed her a Sundance award and kick-started the career of a sensational actress named Vera Farmiga. Perhaps you've heard of her.
Six years on, Granik looks to have repeated the feat with her sophomore effort, but has made a better film in the process. Winner of the Sundance Grand Jury Prize last month, "Winter's Bone" (is an osteo-trilogy in the works?) is a tight, tough examination of life on the breadline in Ozark country that avoids the sanctimonious pitfalls of poverty-porn thanks to a healthy streak of the macabre and a terrific lead performance from 19 year-old Jennifer Lawrence.
A highlight of the ensemble in Guillermo Arriaga's recent "The Burning Plain," Lawrence here handily shoulders the entire film as Ree, a preternaturally pragmatic teenager tasked with mothering her two siblings and tracking down her meth-cooking dad father when the creditors come knocking.
Projecting both wounded candor and vinegary intelligence, Lawrence neither ennobles nor condescends to Ree; if boutique distributor Roadside Attractions can give the push, they have a worthy 2010 Oscar candidate on their hands here. (There's wily support, too, from the wonderful John Hawkes, in his strongest showcase since 2005's "Me and You and Everyone We Know.")
Handsomely lensed (by Michael McDonough) and scored (by Tindersticks's Dickon Hinchliffe), the film occasionally wants for the narrative urgency of "Frozen River," to which it has been understandably compared; Granik can zero in on interesting anthropological details at the expense of the larger picture. But it's a bald, bold leap forward from her debut, confirming her as a distinctive voice in the indie hinterland.
"GREENBERG" (***)
For the many viewers (myself not among them) repelled by the solipsistic East Coast neuroses that enveloped Noah Baumbach's last feature "Margot at the Wedding," the news that the hipper-than-thou New Yorker has shifted his gaze to Los Angeles will either come as a relief or a threat.
"Greenberg," a shaggy, often very funny addition to the recent mini-genre of manchild movies, does find Baumbach's acrid humor mellowing a little in the California sun, but his preoccupation with the social failings of the chronically self-absorbed is undiminished. Our faintly monstrous hero this time is Roger (Ben Stiller), a fortysomething layabout with undetermined mental issues and a repeatedly stated resolution to "do nothing for awhile."
While housesitting for his eminently more well-adjusted brother, he falls into a not-quite-relationship with household PA (this is L.A., after all) Florence (Greta Gerwig), a sweet 25 year-old kook with a crippling self-worth deficit. Suffice to say they don't bring out the best in each other, but while Baumbach's dawdling narrative gradually runs out of fresh places to take their on-again-off-again courtship, the writing is shot through with gentle melancholy and compassion.
Stiller is cannily cast here, offering a calmer sad-sack spin on his trademark obnoxiousness – when he glumly observes that "Life is wasted on … people," it almost plays as a real-world Zoolanderism. But the film's real joy is Gerwig, a fixture of the mumblecore scene now making her play for more mainstream indie stardom; gawkily endearing here, with a perceptive quality that fends off the cutes, she deserves to get it.
"EXIT THROUGH THE GIFT SHOP" (***1/2)
A strong candidate for this year's "Man on Wire"/"Anvil!" slot for crossover documentaries on pop-culture miscellanea, cult British street artist Banksy's first cinematic application of his brand is a smashing success. Brisk, hilarious and brimming with "how did they do that" wonderment, it surprises by turning halfway through from an innocuous potted history of latter-day street art to a saltier study of self-appointed celebrity.
The figure around whom the film revolves is not Banksy himself, but Thierry Guetta (aka Mr. Brainwash), a boundlessly charismatic but borderline-insane amateur filmmaker whose obsessive camcorder chronicling of street artists at work over a period of several years provides the film with the bulk of its fascinating footage. When he decides to offer his own meager talents to the art world, however, the film arrives at a deliciously ironic set of reversals.
How much Banksy "directed" the film is open to question, but he's a delightfully wry personal presence in it – albeit one who maintains his cover with a hoodie and a voice-distorter. One way or another, he's assembled the smart study that this now-mainstream cultural phenomenon merits: celebrating the beauty and wit of street art, while questioning the line between genuine artistry and simple chutzpah in its creators.
Today: a lighter viewing load for reasons of personal celebration, though I'll be catching the well-buzzed Australian contemporary western "Red Hill," while I have yet to discuss Thomas Vinterberg's "Submarino" from the weekend. Later.