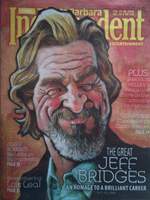 The final day of activities at the Santa Barbara International Film Festival was an all-day tribute to local Jeff Bridges, screenings of his past work and a packed Lobero Theatre screening of "Crazy Heart" later in the day, as well as a post-screening Q&A moderated by yours truly.  The theater seats roughly 750 people and 300 were turned away at the door.  Suffice it to say, the town was ready for this one.
The Q&A was a standard, breezy affair.  Bridges makes it easy, frankly.  It was Valentine's Day, of course, so I couldn't resist the sure-fire applause query: "How many Valentine's Days have you and your wife (who was in the audience) celebrated?"  The answer, of course, is 35, and I think that, in many ways, is the greatest of accomplishments for the prolific actor.
We talked about how Bridges came to the project, how his father instilled a passion for the business in him at an early age, what working with co-star Maggie Gyllenhaal (whose nomination was heartening to Bridges after he sat back and watched her be ignored through the season) was like, etc.  Most of what you might have read in my interview with him back in November, but the crowd ate it up.
Then there was the surprise: I introduced Santa Barbara mayor Helene Schneider who came out to present Bridges with a certificate and declare the day "Jeff Bridges Day."
After the show Bridges stuck around to sign a few autographs (video below) and put his John Hancock on a giant bottle of vodka that was backstage and signed by all of the festival's famous attendees (which will be auctioned off by Chopin, a sponsor).  The image at the top, by the way, is a Bridges caricature on the cover of this week's issue of the Santa Barbara Independent.
All in all it was a great festival this year, but I'm exhausted to say the least.  It's a wonderful stop on the road to Oscar and I commend Roger Durling and hi staff for once again running a classy show.
Bridges signs autographs (courtesy of Hollywood Elsewhere):
Backstage photo op: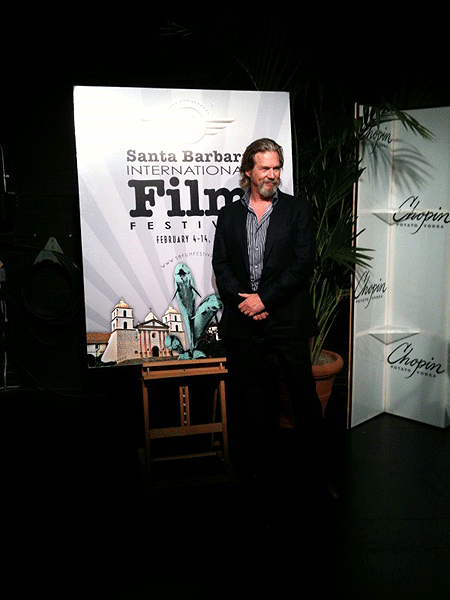 Bridges's autograph on a giant bottle of Chopin vodka: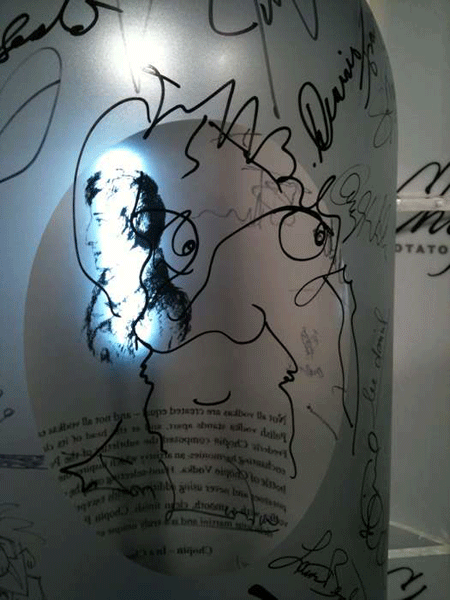 With festival director Roger Durling: