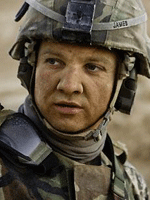 Friday we spotlighted the film editing category in our daily Oscar Guide feature.  Tonight at the Beverly Hilton, the editors themselves had their say at the 60th annual ACE Eddies ceremony.
Bob Murawski and Chris Innis were the big winners in the drama category for "The Hurt Locker" (my prediction for the Oscar win), while in something of a surprise, Debra Neil-Fisher won in the comedy category for "The Hangover," toppling the Coen brothers' "A Serious Man." It makes you wonder just how close the Warner Bros. romp was to a Best Picture nomination with all of this industry love.
Pixar and Kevin Nolting predictably won in the animated category for "Up," while Geoffrey Richardson won in the documentary field for "The Cove," a film that frankly deserved Oscar recognition in the category.
As always, keep track of the season's goings on at The Circuit.