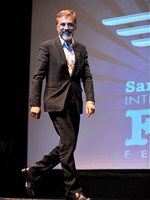 "Precious" star Gabourey Sidibe couldn't be here last weekend for the Virtuosos presentation, which recognized her, Carey Mulligan, Saoirse Ronan, Emily Blunt and Michael Stuhlbarg, so she was in town this evening as part of the Vanguard presentation.  Stanley Tucci, meanwhile, couldn't be here this week to accept his Vanguard prize, so he was here last week and filmed a video acceptance.
They roll with the punches here in Santa Barbara.
The four Vanguard award winners this year, which is the first year that saw more than one recipient, were Tucci, Christoph Waltz, Peter Sarsgaard and Vera Farmiga.  The award recognizes an actor (or actors) who has forged his/her own path, taking artistic risks and making a significant and unique contribution to film.
It fits the quartet.  These actors has found their way to this point in their careers in baby steps, Waltz's career actually the most extensive of the four, ironically enough, regardless of his new appeal in the states.
"Does it bother you when people say you're an overnight success when you've been acting for so many years," moderator and festival director Roger Durling asked the "Inglourious Basterds" star.  "Well, the success happened overnight," Waltz said in what has become his trademark levity and directness.
Clips of each actors' work were screened before each brief Q&A, though I was reminded during the Sarsgaard set just how intense some of his portrayals have been.  And I frankly always forget he was in "Boys Don't Cry." Durling commented on an interesting thread throughout Sarsgaard's work, that he generally takes on characters that are unlikable yet magnetic in some way.  That is a great way of summing up his work in "An Education," too.
It was interesting, by the way, to note Maggie Gyllenhaal, a nominee this year, lurking in the shadows along the red carpet, while her husband, not a nominee, had his night in the flashbulbs' light.  I had a brief chat with her outside about the circuit thus far before a rude, craven journalist butted in to exchange "do you remember me?" pleasantries.
Anyway, Sarsgaard is excited for his role in Warner's "Green Lantern," in which Tim Robbins will be playing his father.  "Tim gave me my first role in 'Dead Man Walking,'" Sarsgaard said.  "So to me he's always been my 'father.'"
Vera Farmiga got a lot of laughs and really laid on the "I wasn't confidant at all" stuff regarding her work in "Up in the Air." When production began, she had just given birth and, hormonally, was a bit of a wreck.  She also was almost fired from the project before production began when it looked like the pregnancy would overlap.  But writer/director Jason Reitman wrote the part with her in mind and George Clooney was a big champion for her.
Finally, Sidibe was her usual self, all the energy and giddiness you've come to expect form her this year.  She talked about how much fun she had on the set of "Precious," despite the subject matter, how she skipped her first class (a psychology of the family course, ironically) to audition for the part on Monday, got a call back within an hour, met with Daniels and had the part by Wednesday.
Talk about overnight.
A lovely evening for all involved, though I wish there was something candid to report from the after-party.  Every single honoree bailed on it.  Sad face.