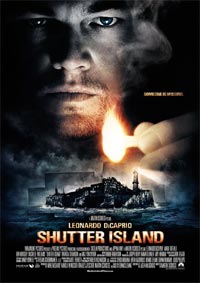 Berlin International Film Festival
(EDIT: Star rating adjusted upon consideration.)
To filch an aphorism from Mike Skinner, "Shutter Island" represents of continuation of Martin Scorsese's decade-long quest to find the hardest way to make an easy living.
If that sounds like a jab, it's not. Since the self-amusing personal statements of "Kundun" and "Bringing Out the Dead" perplexed far more than they pleased, Scorsese has weaved over to the middle of the road, flirting with broad Oscar-bait and crowdpleasers (successfully marrying the two in "The Departed") while playfully maintaining an auteur's consistency of theme and aesthetic.
It's a tricky game to play, and when the elements align, it can work to smashing effect — as in "The Departed," a nifty pop movie-movie winkingly intended as the prototypical "Scorsese film" that casual cinemagoers attributed to him, but that he'd never actually made.
When they don't, however, you get "Shutter Island," a film awash with beauty and trademark stylistic flourishes, attached to a narrative that he never seems all that into. A near letter-faithful adaptation of Dennis Lehane's pulpy source novel, itself something of a genre lark for the author, it surprises principally by offering more intrigue as a Scorsese picture than as an entertainment. As an artistic investigation of B-movie construction, it has all the impeccable craft, and a measure of the cinephile intelligence, of "The Departed" or "Cape Fear"; but a lot of the fun is missing.
The vastly underrated "Cape Fear" is, as always appeared to be the case, "Shutter Island"'s closest sibling in the Scorsese oeuvre: a depersonalized experiment in Grand Guignol horror, its mind as much on other, older movies than anything written in the script.
"Shutter Island" shares the 1991 film's occasional balls-out strangeness – most notably in a dream sequence of lusciously kitsch staging that teases a more vivid and disorienting work entirely – but sorely lacks its wit, a crucial omission when negotiating the extravagantly silly mechanics of Lehane's plot. And where "Cape Fear" tied its genre games to a piercingly nasty examination of family life in post-Reagan America, the new film really isn't about anything beyond its own puzzle: once completed, there's little payoff beyond the satisfaction of having reached the maze's end.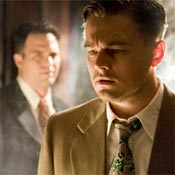 Taken as a fairground ride, then, "Shutter Island" isn't bereft of loopy pleasures while it lasts. The film is particularly tight and alluring in its opening act, which establishes the players and the game with pleasing swiftness, elegantly assembling information while planting sly bonus hints for the keen-eyed.
But as Leonardo DiCaprio's protagonist, a federal marshal on what initially appears to be a missing persons investigation, loses grip on the situation, the storytelling follows suit. Scorsese concocts almost apologetically elaborate atmospheric setups for numerous scenes hinging on prosaic verbal exposition; a resplendently designed sequence in the dankest ward of the mental hospital in which the film is mostly set drips with gleeful Gothic scaremongering, none of it in the wordily informative encounter it finally enables.
I'm admittedly not well-placed to comment on the effectiveness of its axis-shifting plot twist, having anticipated its arrival from the outset – the film doesn't suffer in comparison to its literary source, but doesn't reward familiarity with it either. Screenwriter Laeta Kalogridis actually does a better job than Lehane of guarding details that threaten to prematurely unravel the enigma, only to undermine her own effort with a notably botched reveal that conveys dense psychological flips in banal "Murder, She Wrote"-style bullet points.
With the script so unmoored, it's no surprise that the spectacular cast comes at it from a range of angles, in apparent disagreement as to the film they're in. Patricia Clarkson, for example, dives in with campy, wild-eyed commitment to the B-movie cause, but this kind of kerr-azy cameo playing is oil to the water of Michelle Williams's more abstracted intensity. Somewhere in the middle, Ben Kingsley enjoys himself with oleaginous semi-villainy.
There may or may not be a narrative rationale for the film's more arch supporting turns; either way, at its center, DiCaprio isn't given much in the way of a foil. So limber and responsive in his last two collaborations with Scorsese, DiCaprio is here instructed to begin the film at his most dramatically clenched, leaving the performance little room to grow.
Still, it's impossible to come away empty-handed from a Scorsese picture. Here, where the jerky storytelling and scattershot ensemble leave voids on the canvas, Scorsese fills them in with brazen, sporadically brilliant filmmaking bravado. No prizes for guessing that Hitchcock — "Vertigo," most prominently — is top of the director's reference list, but the expertise of the pastiche can dazzle all the same, even in set pieces as well-worn as DiCaprio's cliff-face clamber.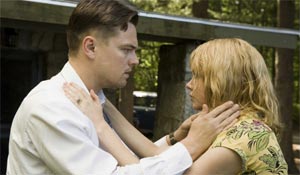 Working from the same memo, Robert Richardson's camera obliges with imperious swoops and a richly saturated palette. The real technical star here, however, is music supervisor Robbie Robertson, who has assembled a remarkable Herrmann-echoing score from cannily overlapped selections of existing works from a panoply of sources ranging from John Cage to Brian Eno to Max Richter. (Wastefully buried in the closing credits, meanwhile, an orchestral remix of Dinah Washington's "This Bitter Earth" is one of the most gorgeous things ever to grace a Scorsese soundtrack.)
Sensually overwhelming and intellectually undernourished, then, "Shutter Island" finds Scorsese positioning himself as the star more than in any of his mainstream works of the past decade. Part of me thrills to see him commanding his medium so aggressively; a grumpier part wonders why he chose such shallow material in order to do so.
Even taking aside the glaring flaws that keep it well below the ranks of a "Cape Fear," it would be easier to enjoy the film as a cheerfully disposable potboiler were there not such effort and occasional artistry in its construction. (And, if we're being quite frank, had we not been kept waiting for it for nearly four years). But a potboiler, by definition, should abut something more selfishly subversive – with his formal gifts still bright, America's greatest living filmmaker has by now earned the right to make one for himself. Scorsese the showman has delighted us long enough.