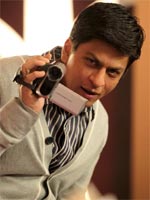 Okay, so that was a long silence. I apologize. But in addition to the usual trials of settling in, my first day at the Berlinale threw up some added obstacles that made for a day that was curiously both hectic and thin on matters worth reporting.
Frankly, one needs an entire day just to process the festival's labyrinthine programme, with its convoluted bylaws of which films in which strands can be viewed by which press at what time. In what is surely the only time Nancy Meyers will prompt my conversation at the Berlinale, it's complicated.
By the time I had managed to get my proverbial shit together, a night on the tiles in the company of the Telegraph's Tim Robey was a far more inviting option than finding a free spot on the carpet of the festival's wi-fi lounge. (A tourist's hat tip to the rather awesome Stagger Lee cocktail lounge near Nollendorfplatz.) So here we are — a little better organized this morning, if a lot worse for wear.
I have just come out of the press screening of "Shutter Island" — to which I shall dedicate a full review later today — and have a little under an hour the squeeze in a precis of yesterday's activity before heading into Thomas Vinterberg's "Submarino" this afternoon.
Brevity is my friend in this instance, however, given that from a film-watching perspective, the day quite literally gave me little to write home about. I must start with a sheepish confession: thanks to a delayed flight, I rolled into town to late to catch the morning press screenings of "Howl" and Roman Polanski's "The Ghost Writer," while competition for tickets to repeat showings is fierce. Such is life. The first rule of festivals is not to fret over what you've missed; the domino effect of catching up will do your head in.
Unfortunately, that meant my festival viewing kicked off on a decidedly inauspicious note with competition entry "My Name is Khan," a haplessly hilarious (and mystifyingly high-profile) attempt to fuse epic Bollywood melodrama and Capra-esque sentiment in an American setting. Crossover buzz is evidently on the minds of director Karan Johar and star Shahrukh Khan; they'd be well advised not to hold their breath.
The less said (or indeed written) about a film so unimpeachably earnest the kinder, but suffice to say that Johar would have his hands full with a 165-minute narrative checklist of issues that includes (count 'em) Asperger's syndrome, post 9/11 trauma, the American Dream, economic downturn, racial and religious conflict and good old-fashioned Bush-whipping even if he did have the faintest idea of how to stage, shoot or (unforgivable in Bollywood, this) score a scene.
With my mood sour after the screening, despite some guilty laughs at the expense of Shahrukh Khan's Rain Man impression, it was fortunate that I then ran into critic Shane Danielsen in the street. Well-informed as always, he advised me to catch a far more worthwhile title in the Panorama strand, Jan Hrebejk's "Kawasaki Rose."
Chances are this rather poorly titled but intelligently observed Czech family drama, mapping an intricate chain of untruths and infidelities among the relatives of a prominent psychologist and former dissident, will never see the light of day in the U.S. If, however, you should see the title in a festival lineup, your attention will be rewarded by a warmly attuned ensemble and an intriguing slinky-toy structure that keeps backflipping the film's key conflict as the network of characters grows wider.
Discoveries like this are what festivals are for. Well, that and the chance to revisit older treasures like Scottish director Bill Douglas's remarkable 1970s trilogy of autobiographical social realist shorts, in an exquisite relic of a cinema in Berlin's West End that "Inglourious Basterds"'s Shoshanna would envy. (A step up, certainly, from the mall-like surrounds of the festival center in Potsdamer Platz.) In festivals, as in life, it's the little things.