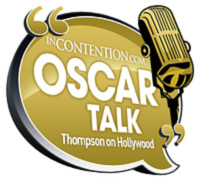 Welcome to Oscar Talk, a weekly kudocast between yours truly and Anne Thompson of Thompson on Hollywood.
I'm in Santa Barbara this week while Anne is back in Los Angeles. Here's what's on the docket:
• The Santa Barbara fest is in full swing, including tributes for James Cameron and Sandra Bullock, among others. We discuss.
• The Sandra Bullock thing leads to yet another Bullock vs. Streep debate. Anne is convinced the older members of the Academy will go for Streep and that the media has assumed the Oscar is Bullock's at their own peril.
• Anne was in Santa Barbara last week and discusses the writers panel she moderated.
• Meanwhile, she was also back in LA for the USC Scripter awards, so she offers her perspective on the evening's festivities.
• Finally, we go back and forth on a few of the debatable categories, including Best Original Screenplay, which could see Quentin Tarantino win his second Oscar. Or will it?
Have a listen below. Forgive me in advance for audio issues on my end. I'm in a hotel room without my handy external. As always, you can subscribe to Oscar Talk via iTunes here.
[display_podcast]