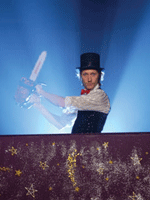 This year's crop of live action shorts is, in my opinion, one of the weaker fields in recent memory. There isn't anything that stands out and announces its storytelling or cinema prowess, though the usual caveat with shorts — gimmicks in the plot — are mercifully scarce this time around.
Generally films that showcase top notch filmmaking techniques, mini-features with noticeably rich production values, have a leg up here. There are exceptions, of course, and many times that built-in bias tends to shun more profound stories that might be assembled with lesser means, but nevertheless, there's a decent mixture of budgets, genres and talent this time around.
The nominees are:
"The Door" (Juanita Wilson and James Flynn)
"Instead of Abracadabra" (Patrik Eklund and Mathias Fjellström)
"Kavi" (Gregg Helvey)
"Miracle Fish" (Luke Doolan and Drew Bailey)
"The New Tenants" (Joachim Back and Tivi Magnusson)
Once again, the shorts will be released by Shorts International and Magnolia Pictures in theaters on February 19.  Last year's winner in the live action category was an effective but trite Holocaust yarn with handsome production values. It beat out a less sophisticated but more thematically resonant film in the process.  This year, there isn't such a battle of filmmaking values, but the most cinematic of the bunch does stand out a bit.
With that, "The Door" is probably on course to win the prize this year. The film begins with a man breaking into an apartment to steal a door. It's purpose, the viewer doesn't know. The rest of the narrative unfolds purposefully from there, skipping around in time to reveal the heartbreaking events, and personal impact, of the Chernobyl disaster. But for viewers who may go into the film unaware of its focus on the 1986 nuclear accident — and there may well be many (even though it is indicated in press materials) — the impact is considerable, demanding a repeat viewing to see how the elements of the otherwise mysterious tale fall into place. It would be folly not to take this one seriously as competition for the Oscar, which would already add to its considerable tally of accolades.
The frothy "Instead of Abracadabra" is a wonderful little comedic entry in the group, but the film fully owes its success to an endearing leading performance from actor Simon J. Berger, who does a fine job of developing a lovable if somewhat absent-minded amateur magician. After running into his nurse neighbor at the hospital following a magic trick gone awry, he falls for her and aims to impress her with his act at his father's 60th birthday party. The piece manages to navigate the always tricky waters of comedic timing and ends on hilarious punctuation. It also has a playful editing structure that shows real storytelling chops. At the end of the day, however, this short will likely be seen as too frivolous by the voting committee to take the statuette from more sincere fare.
The India-set "Kavi" is a slice of life in modern day human bondage. The story revolves around Kavi, an Indian youth who dreams of going to school and playing cricket. But his reality is making bricks in a kiln with his parents, lorded over by a despicable villain whose debt the young man's father is trying to repay. It has a fairly simplistic narrative flow, the facility being monitored by a couple of activists who are looking to close down the kiln. The film was director Gregg Helvey's USC thesis project, was shot entirely on location in India and is itself a piece of activism, reacting to the staggering level of slavery still being practiced today. It's an interesting entry the year after "Slumdog Millionaire" for obvious reasons, but it ultimately feels like an also-ran surrounded by more robust contenders.
Luke Doolan's "Miracle Fish" is a gimmick film of a sort that turns on a dime in the final moments to, frankly, take advantage of some troubling real-life imagery and ultimately say nothing at all. That's perhaps being a bit harsh on the film, because it is certainly creative, the story of a young middle-class Australian birthday boy who gets picked on at school and seems to will the world away when he hides out in the hospital bay for a few hours. But there is much more to the mysterious disappearance of classmates and school staff. For my money, it's the weakest of the lot, but those more easily grabbed by the hook of the film might have a different reaction. Obviously Paula Wagner counts in such a group. She rang up the filmmakers to develop a project after seeing the film at Sundance over a year ago.
Familiar faces can sometimes go a long way toward securing a win in this category, assuming quality work on top of it, of course. In "The New Tenants," character actors Jamie Harrold, David Rakoff, Kevin Corrigan and Vincent D'Onofrio star in a comedy of circumstances. Well, it's not a proper comedy, but it certainly has a dark sense of humor. Harrold and Rakoff are the new tenants in an apartment with quite the history, as they soon discover with the arrival of a crazy, prying old lady, an angry husband and a lowlife thug. As unique as the narrative might be, it nevertheless opens with an annoying soliloquy bemoaning the horrors of the world that feels like it's fresh out of film school and frankly doesn't make a whole lot of sense when the recipe-laden credits finally roll.
Will win: "The Door"
Could win: "The New Tenants"
Should win: "The Door"
Should have been here: (abstain)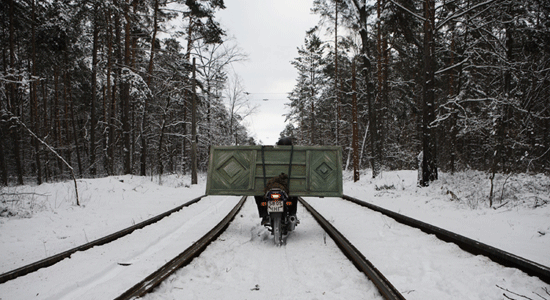 What do you think deserves to win this year's Oscar for Best Live Action Short? Have your say in the sidebar poll! (Note: I recognize most of you will not have seen all of the films and therefore don't have an opinion on the matter, but in the service of uniformity, we'll offer a poll anyway.)