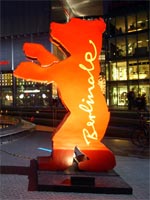 In a couple of hours, I'll be packing my bags, donning my warmest and most ridiculous-looking puffa jacket and catching a crack-of-dawn flight to the German capital. The occasion, of course: the 60th Berlin International Film Festival.
I've been to Berlin before — and was thoroughly enamored of it — though this will be my first experience of the festival, and I'm not a little intrigued. Alongside Cannes and Venice, the Berlinale essentially completes the holy European festival trinity, but its position in the calendar gives it a rather different profile from its glitzier sisters.
Where Cannes hogs the lofty auteur names and Venice always nabs a couple of big fall awards hopefuls, Berlin is a refuge for smaller fare from up-and-coming filmmakers, peppered with the occasional sexy Hollywood premiere.
That's not to say that the festival doesn't launch substantial works. Two of this year's Oscar nominees, "The Messenger" and "The Milk of Sorrow," began their awards trails with wins at Berlin a year ago, while the 2008 competition turned up the actressy trifecta of "Happy-Go-Lucky," "I've Loved You So Long" and "Julia." Berlin hits have to ride their buzz for longer than those at Cannes, but there are almost always a couple that quietly stay the course.
This year's lineup is typical of the festival of late: heavy on titles from promising European and Asian auteurs who have yet to hit the big leagues, with a judicious handful of bigger names to draw in the pundits. The largest piece of brand-name bait in competition this year is Roman Polanski's "The Ghost Writer," which screens for the press tomorrow morning. (Hopefully, I'll arrive in time time to catch the early screening.)
Polanski obviously won't be in town, which should calm the media circus somewhat, though his personal circumstances will surely bolster conversation around the film nonetheless. An adaptation of a Robert Harris thriller, it stars Ewan McGregor, Pierce Brosnan and Kim Cattrall: that faintly stale cast and an iffy trailer aren't leading me to expect prime Polanski. We'll see.
Among the bigger auteur names in competition, I have higher hopes for Noah Baumbach's "Greenberg," another familial comedy of manners from the director, this one headlined by Ben Stiller and Jennifer Jason Leigh. (Leigh, AKA Mrs. Baumbach, also co-wrote the film with her husband.) Some will be looking for a return to form after the general disappointment over "Margot at the Wedding"; as a defender of that film, I'm merely hoping for him not to drop the ball.
Also seeking a return to critics' darling status is Thomas Vinterberg, a Dogme 95 founding member who has yet to quite replicate the dazzling success of his bruising 1998 masterwork "The Celebration." He's coming to town with "Submarino," a drama chronicling the relationship of two estranged brothers working through the trauma of a family tragedy. Jakob Cedergren (so excellent in "Terribly Happy," currently on release) stars, giving me a second reason to be interested.
The lineup also features the latest from a mainstay of the European festival circuit: Zhang Yimou is taking a break from the martial-arts epic with "A Woman, a Gun and a Noodle Shop," a drama whose title appears to serve as its own synopsis. Advance word doesn't appear to be wildly enthusiastic.
In the out of competition section, Martin Scorsese's "Shutter Island" looms large; his adaptation of the Dennis Lehane thriller, which has already been extensively screened for the press, will have its world premiere on Saturday night, ahead of its U.S. release next week. As such, it's a nice publicity coup for the festival, but little more than a formality.
But for critics and audiences wanting to get a far longer head-start on films awaiting release, the lineup also features a host of the hottest titles from last month's Sundance fest. I'll be sure to check out Focus acquisition "The Kids Are Alright," the Julianne Moore-Annette Bening starrer that stirred some early Oscar talk, as well as Debra Granik's lavishly acclaimed Grand Jury Prize winner "Winter's Bone," both screening out of competition.
Rounding the Sundance catch-up session will be the well-regarded Banksy doc "Exit Through the Gift Shop," Nicole Holofcener's "Please Give," experimental Allen Ginsberg biopic "Howl" and Michael Winterbottom's controversy-magnet "The Killer Inside Me." (The latter two are screening in competition.)
Those, of course, are merely the titles I have a measure of advance knowledge about. The real joy of festivals comes in the unheralded sensations that come in from the left and knock you sideways — and it's pointless to speculate what those might be. I'll be in town for a week, keeping you informed with daily updates and reviews, as far as my dense viewing schedule — the the freezing weather conditions — allow. Right now, I have a plane to catch.
(By the way, the festival formally kicked off tonight with Wang Quanan's "Apart Together," an unusually low-key choice of opener that nonetheless appears to have the critical goods. David Hudson at The Auteurs has more details.)