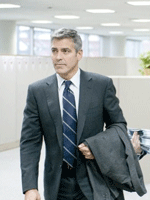 Back in a November installment of Off the Carpet, I noted that, by my measure, the films of 2009 reflected a particular theme.  "I've always come back to one thought on this year's slate of films: catharsis," I wrote at the time.  "With expected exceptions here and there, in one way or another, the bulk of what we've seen on screens in 2009 has very much been about emotional purging, bleeding out the past and, not to be too on-the-nose with the zeitgeist connotations, change."
I bring it up because it's something I was reminded of while reading this Cristy Gosz piece at the LA Times, which treads similar waters but comes up with the idea that a number of the year's films use travel as a metaphor for a character's "visceral transformation" on the screen.
The piece takes quotes from Jason Reitman and Jon Landau (at least one more would have been nice) to buttress the thesis and ens up making a solid enough point.  It's always interesting to note similar thematic rhythms in a given film year, however irrelevant they might ultimately be.
Writes Grosz:
…"Up in the Air" isn't the only film this season — or even the only Oscar nominee — that uses the physical journey as a metaphor for a character's visceral transformation. The journey in "Up" allows a reclusive old man to reconnect with the world. "Where the Wild Things Are" is about a boy who learns the importance of family through his travels. "The Road" follows a man's trek as he teaches his son to survive. "Avatar" gives a paraplegic Marine an opportunity to travel through space and develop a love for another culture.
Thoughts?