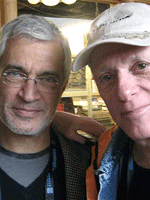 I didn't realize it had been fully six months since I saw "The Cove" beginning to end until I sat down to watch it again this evening at the Lobero Theatre in Santa Barbara.  The screening was in honor of the film's receiving the Sir David Attenborough Award, given annually to a film exhibiting excellence in nature filmmaking.  Roger Durling and his staff couldn't have tapped a more worthy recipient this year.
The film remains a rock solid punch to the stomach, bringing tears at least two or three times throughout.  It is indeed one of the best films of 2009, but looking back at my top 10 list, I feel like it could have been higher.  There was a time when I considered it the best film of the year, period, and there are still times that I think it deserves that consideration.
It went over like gangbusters with a crowd that definitely didn't know what kind of an emotional experience it was in for.  One woman jumped up and hustled to the back, crying, during one pivotal sequence.  And the applause hit, just as it should, during activist Ric O'Barry's final act of heroism seen in the film, a television strapped to his chest exposing to the International Whaling Commission the dark truths going down in a little harbor village in Japan.
O'Barry and Psihoyos also received a sustained standing ovation as they took the stage following the screening.  The Q&A was moderated by SBIFF staffer Mike DeGruy, who is responsible for putting together the Reel Nature sidebar at the fest each year.  Psihoyos talked up some of the same general talking points you've likely read in previous interviews, noting that when he was first considering a jump from still photography to filmmaking, he asked Steven Spielberg (whose son had befriended Psihoyos's) if he had any advice.
"Yeah, don't make a film with fish or boats," the filmmaker told him.
O'Barry talked about a planned trip to Taiji on Septmeber 1, when the dolphin slaughter season begins, that is open to anyone willing to come.  He says they are hoping to get 1,000 people to show up and that details should be posted at www.SaveJapanDolphins.org within the month.  I have to say, I'm in.
I spoke with Psihoyos again backstage after the presentation to see how he's enjoying the season.  We've crossed paths a few times the last couple of months and he's always genuinely thrilled to be reaching a new audience with each award and accolade.  And that will be even more considerable if he wins the Oscar next month, as the Academy Awards are the most watched program on Japanese television.  But I'll have more to offer on all that when I post an interview with the director next month.
O'Barry, on the other hand, I haven't had the pleasure of meeting this season.  And backstage, waiting my turn to exchange pleasantries and maybe get a few quotes, I have to say, all journalistic instinct jumped right out the window.  I felt legitimately star-struck by the guy and wanted nothing more than to shake his hand and, I don't know, thank him.  I don't care how cheesy it sounds.  Here is a guy laying it on the line and I'm doing, what, writing about the Oscars?  It slams things into perspective when you meet a guy like that.
I asked him if he's been able to enjoy the awards circuit at all as a ride, but it's difficult.  He has a 5-year-old daughter at home and he hasn't been around much lately, but I think it's clear he's not alone in his quest anymore, and if nothing else, the load is lightened by the newly galvanized activists that have cropped up around the film.
And they are legion.