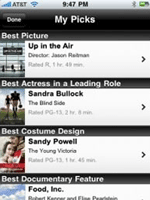 You guessed it: There's an app for that.
Thanks to Film School Rejects for pointing us to a new app for iPhone and iPod touch, "Academy Awards Hero."  For 99 cents you can do the following:
View all of the 82nd Annual Academy Awards® nominees and vote for your pick to win. Share your votes with your friends on Twitter and see who can pick the most winners. You can even view beautiful full screen trailers and film info for the 2010 nominees, all built right into the app.

Also deepen your movie knowledge with the app's database of past winners and nominees from the inaugural year in 1927 up to today. You can view all nominees and winners by year and category. With a beautiful interface and lots of great movie info, this app is a must have for any movie lover.
Although I imagine it's only a matter of time before the Academy cracks down on the use of its likeness and namesake for the purposes of profit.  After all, we were a casualty once upon a time.