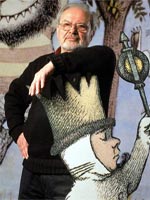 One of my smaller disappointments of last week's Oscar nominations was the failure of Spike Jonze and Lance Bangs's lovely "Tell Them Anything You Want: A Portrait of Maurice Sendak" to secure a nod in the documentary short category. (You might remembert Kris's enthusiastic endorsement of the film back in October.)
Admittedly, I have not seen the five films that did make the cut — chances are they're all highly worthy. But the Sendak short was a captivating portrait of a truly singular artist, simple in construction but touched by its subject's one creative energy. Moreover, a nomination would have been a nice way for the Academy to indirectly recognize Jonze's extraordinary work on "Where the Wild Things Are," recipent of one of the most undeserved ducks of awards season.
Anyway, spilt milk and all that. But I'm pleased to report that one of my favorite new indie outfits, Oscilloscope Laboratories, has acquired the short, and will be releasing it on DVD to coincide with the DVD release of "Where the Wild Things Are."
Screen Daily offers the following suitably curious statements from Spike Jonze and Oscilloscope founder Adam Yauch:
"Maurice Sendak and the Beastie Boys are two major influences in my life so it's perfect to be doing this documentary about Maurice with Yauch," Jonze said, referring to O-Scope founder Adam Yauch, aka the Beastie Boys' MCA. "It's one of those full circle-circle things."

"It's great to have Spike stopping by the office to hang out," Yauch said. "He is a good one to test the O-scope booby traps on, as he is rather spry on his feet. Currently Spike is hanging upside down by his left ankle, dangling from a palm tree. I'll set him free shortly."
"Tell Them Anything You Want" hits DVD shelves on March 2. Check it out.