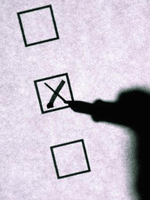 We've said it before, but the preferential balloting aspect of this year's Best Picture race has been somewhat neglected by the media and the insistent positioning of the race as "Avatar" vs. "The Hurt Locker." I see in one corner of the web that Anne Thompson is still calling that the battle "all the way," with no mention of how the new schematic totally changes that perception.
Elsewhere, it's catching on.  In his latest Notes on a Season column, Pete Hammond posits, as I did in this space last week, that Pixar's "Up" could be a potential beneficiary of the system as it could be in the number two or three position on a great many ballots.  Intriguingly, he also finds a Fox exec willing to say the same thing about "Avatar," a film clearly more polarizing than a number of it's co-nominees.
Hendrick Hertzberg is also coming around to things at The New Yorker, noting that few people who have seen "The Hurt Locker" actively dislike it, which is of course why it's our likely victor.  Even though Hertzberg is coming from the "Avatar" versus "The Hurt Locker" side of things, at least he's posing the argument.
Meanwhile, at Movieline, Mark Lisanti skewers both the process and the obsession over it. Here's an excerpt from his scenario:
If Avatar is listed in the number one slot, the ballot is placed in a pile labeled "Easily Distracted By Groundbreaking Visuals, Record-Setting Box Office, And Six-Legged Horses," where it will be sneered at by the accountants maintaining the much smaller An Education and A Serious Man piles, then urinated upon by the supervisor assigned to the Inglourious Basterds pile.
Oh, and this one MUST be passed along:
If Inglourious Basterds is in the bottom half of a ballot, it's awarded a five-spot "Weinstein bonus" per vote. Any accountant failing to apply the bonus will awake the next morning to find the scalped head of a Nazi on his pillow, and FOR YOUR RE-CONSIDERATION scrawled in pig's blood on the bedroom wall.
One thing is for certain.  No Academy member is likely to give all of this a second's thought, meaning that a great many people will be unknowingly assisting the films they don't put at the top of their ballot.  But hey, knowledge is power.