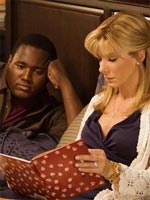 In the wake of last week's semi-surprise Best Picture nomination, the New York Times has rather an interesting piece on the sly marketing strategies that propelled "The Blind Side" to phenomenon status in the first place — tactics a Hollywood marketing consultant likens to "the regional marketings approach of the 50s, 60s and 70s."
What I hadn't realized is that, though the film was distributed by Warners, the film's original production company, Alcon, maintained control over its marketing. (That Warners' own similarly-themed Oscar baby, "Invictus," was snubbed in favor of the same studio's stepchild is a delicious irony.)
The strategy therefore began as early as the casting stage. Country music superstar Tim McGraw was brought in for added appeal to Southern audiences, but more canny was the casting of several well-known college football coaches:
Just like an old-fashioned publicity stunt, their presence helped "The Blind Side" connect with a male, sports-oriented audience that was roped in through blog reports and by screenings for college sports fans, some of them organized by the coaches themselves.
What strikes me as a real stroke of genius, however, is the use of church-based marketing to craft a sense of moral obligation toward seeing the film:
Churchgoing women and their families were also attracted with help from Grace Hill Media. This marketing company has been used by studios for years to bring such audiences to films like "Walk the Line," "Elf" and "The Pursuit of Happyness."

In this case Grace Hill took the unusual step of offering online sermon outlines based on "The Blind Side," with clips that could be used in churches equipped with video screens. According to Mr. Johnson and Mr. Kosove, about 23,000 churches downloaded the sermons, laying an exceptionally strong base for the film.
Can't see that tactic working with those L.A.-based hedonists that make up the Academy. Anyone remember "The Color Purple" star Margaret Avery's infamous "letter to God" ad in Variety?