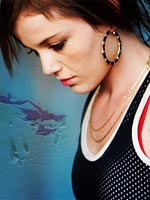 Voted on by a handful of London critics (including IC friend Tim Robey), the Evening Standard Film Awards aren't the glitiziest of honors, but they always make admirably singular choices. Celebrating the best in British film and talent, they often highlight names and titles below the radar of even the British Independent Film Awards.
As if that wasn't commendable enough, they earned the distinction last year of being the sole awards body to give Tilda Swinton a Best Actress award for "Julia."
At tonight's ceremony, meanwhile, they continued to earn my goodwill as their top prize went to Andrea Arnold's "Fish Tank," beating Jane Campion's "Bright Star" in the process.
In something of an upset, Carey Mulligan lost Best Actress to "Nowhere Boy" star Anne-Marie Duff, while BAFTA nominee Andy Serkis took Best Actor for the Ian Dury biopic "Sex & Drugs & Rock & Roll." The night's winners also included two Oscar contenders: the screenwriting team behind "In the Loop," and Barry Ackroyd for "The Hurt Locker." Full list of winners and nominees after the cut.
Best Film
"Bright Star"
"Fish Tank" (WINNER)
"Helen"
Best Actor
Tom Hardy, "Bronson"
Alex MacQueen, "The Hide"
Christian McKay, "Me and Orson Welles"
Andy Serkis, "Sex & Drugs & Rock & Roll" (WINNER)
Best Actress
Anne-Marie Duff, "Nowhere Boy" (WINNER)
Kelly Macdonald, "The Merry Gentleman"
Carey Mulligan, "An Education"
Best Screenplay
Jesse Armstrong, Simon Blackwell, Armando Iannucci and Tony Roche, "In the Loop" (WINNER)
Nick Hornby, "An Education"
Paul Laverty, "Looking for Eric"
London Film Museum Award for Technical Achievement
Barry Ackroyd, cinematographer, "The Hurt Locker" (WINNER)
James Herbert, film editor, "Sherlock Holmes"
Tony Noble, production designer, "Moon"
Most Promising Newcomer
Katie Jarvis, actress, "Fish Tank"
Duncan Jones, director, "Moon"
Peter Strickland, writer/director, "Katalin Varga" (WINNER)
The Peter Sellers Award for Comedy
Peter Capaldi, "In the Loop"
Sacha Baron Cohen, "Bruno" (WINNER)
Ricky Gervais, "The Invention of Lying"
Best Documentary
"Afghan Star"
"Anvil! The Story of Anvil" (WINNER)
"Sleep Furiously"