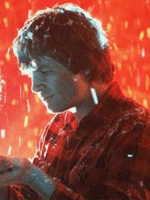 I was happy to contribute this top 10 list of Jeff Bridges performances to Fandango's Awards Watch section.  Those who follow me on Twitter may have noticed many a Tweet aboutt his Bridges film or that over the last few weeks, and that's because I've been burying myself in his work once more while preparing for the piece.
My number one will never budge, but my number two and three are at times interchangeable.  But they're all great, pitch-perfect performances.  Along the way, I realized what I kind of always knew.  You can always count on him to deliver, whatever the material might be.
Also, across the pond, The Times of London catches up with the actor (actually, they caught up with him in Santa Monica, but you get the picture).  It's a great observation of the man and opens with a humorous account of a "celebrity-etiquette Mexican standoff" regarding an undelivered birthday party invite.  Good stuff.
More on Bridges and his fellow lead actor nominees in Wednesday's edition of the Oscar Guide.  Meanwhile, spinning off my Fandango list, feel free to chime in with your list of favorite Bridges performances.