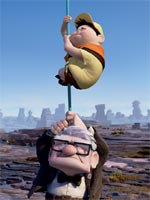 Last year, the industry-voted Annie Awards appeared to have entered a peculiar grudge match with Pixar Studios, as eventual Oscar-winner "WALL-E" came away empty-handed, while "Kung Fu Panda" swept the board.
Whether that curious outcome was the result of peer envy or professional preference, the Annies appear to be back on board with Pixar, as "Up" took Best Feature and Best Director honors at last night's ceremony. (Ironic, given that in this banner year for animation, a deviation from the expected would have been arguably better-received than last year's shocker.)
Still, the Annie voters spread the wealth, with "Coraline" and "The Princess and the Frog" dominating the technical categories. Interestingly, "Coraline" composer Bruno Coulais beat out Oscar frontrunner Michael Giacchino — nice to see that undervalued score getting a moment in the sun.
Finally, the many devotees of "Fantastic Mr. Fox" will be comforted that it took writing honors for Wes Anderson and Noah Baumbach. Full list of feature winners after the cut.
Best Animated Feature: "Up"
Best Director: Pete Docter, "Up"
Best Screenplay: Wes Anderson and Noah Baumbach, "Fantastic Mr. Fox"
Best Voice Acting: Jen Cody as Charlotte, "The Princess and the Frog"
Best Production Design: Tadahiro Uesugi, "Coraline"
Best Music: Bruno Coulais, "Coraline"
Best Character Design: Shane Prigmore, "Coraline"
Best Character Animation: Eric Goldberg, "The Princess and the Frog"
Best Animated Effects: James Mansfield, "The Princess and the Frog"
Best Storyboarding: Tom Owens, "Monsters vs. Aliens"