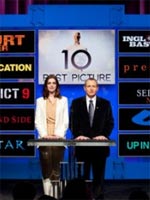 • Did you hear? The 2009 Academy Award nominations were announced. "The Hurt Locker" and "Avatar" led the pack.
• Days before, Kathryn Bigelow nabbed the Directors' Guild Award — the first woman ever to do so.
• Back to the Oscars, we collected reaction statements from 44 of this year's nominees.
• I rounded up some of the most pleasant surprises in the nominations, as well as the most unwelcome snubs.
• We introduced a new daily feature, the Oscar Guide, taking a magnifying glass to the Best Supporting Actress, Animated Short and Visual Effects races.
• A special midweek edition of Oscar Talk surveyed the post-nomination landscape, while Kris updated his winner predictions once more.
• Meanwhile, the Long Shot reflected on the heated (and often misleading) side-taking that comes with every Oscar race.
• Tech Support cast an eye over the Academy's choices in the technical races.
• Away from the Oscar beat, the Sundance fest wrapped, with Debra Granik's "Winter's Bone" leading the award winners.
• "Avatar" spent a seventh week atop the box office charts. Can "Dear John" prevent an eighth?
• "Transformers: Revenge of the Fallen" and "Land of the Lost" topped the Razzie dishonor roll.
• How well did we call the nominees? Off the Carpet took a final predictions stab; so did Tech Support.
• I played the prediction game too, but also did some wish-making with a dream ballot of my own.