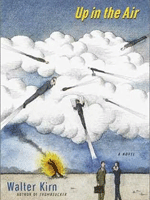 I'm currently sitting in the back of the Arlington Theatre in Santa Barbara for James Cameron's Modern Master tribute and word has trickled in that Jason Reitman, Sheldon Turner and Walter Kirn have won the USC Scripter prize for "Up in the Air."
This was obviously somewhat anticipated and the WGA and Oscars will likely follow suit, but for now, a great moment for all involved as Kirn gets his moment in the circuit's sun. The Scripters, of course, celebrate both the screenwriters of adapted screenplays and the authors of the source material that spawned them.
Reitman and fellow Scripter nominee Geoffrey Fletcher were here in Santa Barbara this morning for a writers panel. Reitman will be coming right back tomorrow for the directors panel after heading down to LA to accept his award this evening.
There's no rest for the wicked during the season.