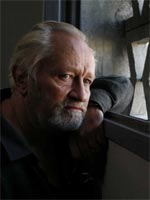 Being a fairly highbrow cineastes' mag, Sight & Sound tends to keep a safe distance from awards season — which is probably just as well, if Nick James's grim-faced editorial on the subject is anything to go by.
Like many British journalists, James's analysis of the Oscar race is a little wobbly: he states that "Avatar" is a certainty to win Best Picture based on its Golden Globe success, but makes no mention of the Guild awards. More vexing, however, is his airy dismissal of this year's cinematic crop: claiming that 2009 was "the weakest year for American cinema since the 1980s," and that "in terms of quality US films last year, "The Hurt Locker," "Up in the Air," "Precious," "Inglourious Basterds" and "Up" are literally all there is." (He then goes on to pick holes of most of those films anyway.)
And I thought I was negative about this year's race. Sure, I have problems with at least half this year's Best Picture nominees, but neither am I claiming that the category contains all the standout American films of 2009.
Once he gets that rant out of his system, however, James has some good points to make about the overwhelmingly American-dominated nature of this year's awards race — something I discussed in a Long Shot column a few weeks ago. And the prime target of his ire is not the Academy, but BAFTA, a group whose many weaknesses I also addressed recently.
He's particularly annoyed that two foreign-language films, "A Prophet" and "Let the Right One In," couldn't crack any of the main nomination categories, despite a number of BAFTA longlist mentions (though, worrying, Best Film wasn't among them). And the problem, he says, lies in the existence of the foreign-language category itself:
Bafta's membership has plumped for an incredibly lazy Best Film list of the most promoted good US films plus the addition of BBC Films' "An Education" … none of those American films can stand next to "A Prophet."

Good old anglophone xenophobia and ignorance may be reason enough for the particular blandness of this year's Bafta lists — I'm not going to shy away from saying that. But another part of the problem is these ghetto categories … if you have a 'foreign language' category, people put their favourite foreign film down to win that and then assume it can't possibly win Best Film too, and so plump for an American or — if feeling particularly bold or patriotic — a British title. What this year demonstrates is that they do it even when the US cupboard is pretty bare.

I know that dissolving the 'foreign' category would not result in a victory for next year's equivalent of "A Prophet," but over time confidence in voting away from the anglophone bloc would build until just such a coup could occur.
That last point is one I find particularly salient in light of the rather sad fact that not only did the Academy's expansion of the Best Picture race result in a monolingual slate of nominees — subtitled stretches in "Inglourious Basterds" and "District 9" notwithstanding — but no foreign-language title even emerged as a dark-horse possibility.
That there was more talk of "The White Ribbon" surprising in Best Director than in the roomier top race is troubling — it may well have garnered more Best Picture buzz if it hadn't been eligible in the foreign-language ghetto, where it was ultimately nominated. (It was the impossibility of rewarding the film in the foreign-languge category, after all, that likely factored into that against-the-odds Original Screenplay win for "Talk to Her" seven years ago.)
James's proposed solution is a drastic one, but could it potentially encourage discerning voters not to take these films for granted?