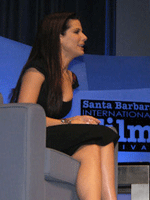 "It" girl of the year, Sandra Bullock, was feted here in Santa Barbara last night.  The two-hour celebration of her career, a Q&A moderated by Pete Hammond with clips of her work thrown in here and there, was, to be perfectly honest, one of the better tributes I've seen, culminating with Forest Whitaker's presentation of the American Riviera Award to the actress.
The award is given to an actor or actress who has made an indelible mark on American cinema, and regardless of the prescience of festival director Roger Durling's choice (the invitation was extended back in September, before anyone would have dreamed Bullock would be the frontrunner to win the Best Actress Oscar), it's an undeniable pick given Bullock's status in the industry.
Hammond began his introduction by noting the annual Quigley poll, which charts the success of movie stars and "is usually dominated by male actors," he said.  "Johnny Depp, Matt Damon, George Clooney, Robert Downey Jr.," he said.  "But guess who's at the top?"
The tribute began with a wonderful (as always) warming up to Sandra, the person, her family life, raised by two artists (her parents were both opera singers) between Virginia and Germany, etc.  Her transition from a failed television series, "Working Girl," the producers of which held her back from her passion and where her instincts wanted to take the material: comedy.
Then it was on to features, of course, auditioning for and getting a role in the romantic comedy "Love Potion No. 9," half of which Bullock says is "a good movie."  There was a clip of "The Vanishing" tossed in, featuring Bullock alongside Santa Barbara's own Jeff Bridges.  The two have been reunited consistently on the circuit this year as they continue to win awards for "The Blind Side" and "Crazy Heart." It prompted Bullock to note how "cyclical" the industry can be and how things have a tendency to come back around, "if you stick to it long enough," she noted.
From there we know the trajectory.  Blockbuster success in "Demolition Man" and "Speed" followed by mid-1990s romantic comedy pigeonholing.  She revealed how difficult it was to watch Warner Bros. unravel Denis Leary's "baby," the 1996 romance "Two If By Sea," which the studio wanted to morph into another "While You Were Sleeping." The entire conversation was delightful and engaging.  Bullock made Hammond's job easy with her array of interesting stories and asides.
Personal highlight: "People's 50 most beautiful list is a publicist's wet dream," Bullock said of one of her many accolades.  "You ever notice how they coincide with when someone has a movie out?  Hmmmm…"
Everything obviously was leading to 2009, a year that saw Bullock join an elite list of just eight women to have ever topped that poll, as "The Proposal" and "The Blind Side" have combined for over $500 million worldwide and now Bullock seems primed for an Oscar for her work in the latter, which also received a surprising Best Picture nomination last Tuesday.
Bullock actually mentioned the "year of the woman" thing at an after party at the Montecito home of Jeff Barbakow, head of the festival's board of governors.  "Everyone keeps saying this is the year of the woman," she said.  "But guess what?  We're here.  We've been here."  The indication was that the insistence on the story in the media, no matter how attractive the headline, has become tired.
Getting back to the tribute, it was again such a delight to listen to such a successful, attractive, genuine and honest-to-God NICE person discuss her career and be honored in this fashion.  I was just as struck when I got a few minutes with her a last month.  "I want you to know that I hate you," Durling said to Bullock with a laugh before introducing Whitaker (to whom Bullock presented the American Riviera Award in 2007 — again, cyclical) and his heartfelt award presentation, humorously noting "your hair is perfect" among the list of things that seem to have fallen perfectly into place for the actress, leaving no room for disapproval.
But yet, disapproval runs amok.  An Oscar season draws out passion, and from that woodwork comes unbalanced vitriol.  "The Blind Side" is not the most beloved film on the circuit, to put it mildly, and the idea of Bullock winning the lead actress Oscar over other favorites such as Carey Mulligan and Meryl Streep has stuck in many a craw.  But the distaste has become, to be perfectly honest, embarrassing.
I can't help but think many need to come to grips with the fact that, as time capsules go, an award for Bullock isn't the worst thing in the world, and certainly it indicates a tip of the hat to her endurance and savvy, not to mention her talent (because at the end of the day, her work in "The Blind Side" is anything but a "bad" performance).
For Bullock, it really is all a surprise.  The highlight of the year, she says, was sharing the stage and the Best Actress honor with Streep at this year's Critics' Choice Movie Awards.  She plans on attending the Razzies to celebrate her "worst actress" nomination for the crash-and-burn comedy "All About Steve." She couldn't be more gracious and more — to steal a most overused cliche — down to earth.
Let the girl have her year.
(Photo courtesy of Hollywood-Elsewhere.com)