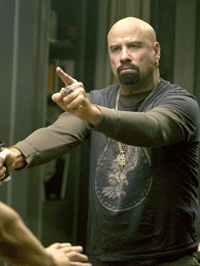 *All historical figures cited are adjusted to today's dollars.
"Avatar" has swept aside the entire January schedule with relative ease and is aiming for an eighth weekend at the top of the box office. Considering it dropped only 10% last week despite some direct male competition from Mel Gibson and it now has 9 Oscar nominations to brag about, you can expect another slim decline and $25 million+. That should be more than enough to secure victory against Channing Tatum and John Travolta.
Tatum headlines "Dear John" with Amanda Seyfried, from the author of "The Notebook." It's a date movie for the date crowd and hey, did we mention it's from the author of "The Notebook?" The premise sounds like a 1940s film, writing letters to a soldier and all. Shouldn't the title be "New Facebook Message, RE: Miss U Lots xo <3?" Anyway, that very fact mixed with the cast should satisfy women of all ages and help this one to $21 million or so.
The director of "Taken" is back and blowing more shit up with "From Paris With Love." There are three reasons why this won't be as successful. One: Mel Gibson's movie may not have done well but it's still out and still direct competition. Two: Lionsgate is releasing and there is a ceiling to what they can accomplish with an action film ($18 million). Three: Liam Neeson looked all sorts of badass in the "Taken" trailer. In this, John Travolta looks like the bouncer at the Jackhammer gay club in Tribeca. $13 million.
"Crazy Heart" and "An Education" each add about 600 screens looking for that Oscar bump. The latter's will be minimal but Jeff Bridges and company should jump to about $6 million and into the top 10.
Expect "Edge of Darkness" to drop 45% and "When in Rome" to do the same. Oh, and "Avatar" passed $600 million on Tuesday, which means something a little extra to all you commenters that complain about my adjusted numbers.
What are you seeing this week?