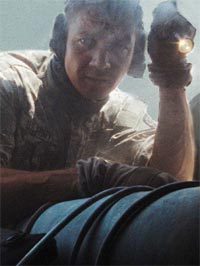 A whole 31 days ahead of the 82nd Academy Awards ceremony, the race already feels like it's winding down.
Of the precursors, only BAFTA and the lesser guilds (sorry, WGA, but you brought irrelevance upon yourself) lie in wait to distract us from a month of wafty speculation and idle editorializing. Trust me, you're going to get very sick of the phrase "battle of the exes" before the month is out … if you aren't already.
For me, a trip to the Berlinale next week couldn't be better timed – a few days of seeing and discussing some new films, including several of this year's hot Sundance titles, will be a welcome vacation from the ever-dwindling pool of names and titles we've been talking about since the fall.
But if you're not one of the lucky few who can make it to a festival – or if you're as uninspired as everyone else by the new releases of the last few weeks – fresh perspective needn't come only from fresh films. I recently had the pleasure of rewatching "The Hurt Locker" and getting happily reacquainted with it as a movie, rather than as the industry story it has grown into over the months.
Awards season can sometimes smother the movies it celebrates, turning them into representations of competing social and artistic ideals that they were never intended to be. As the competition narrows, these definitions get progressively more binary – and the side-taking more vicious. (You only have to look at Roger Ebert's online opposition of "Avatar" to see what the season can make us do to movies we even like.)
One has only to look at the way in which the media has cornered the two presumed frontrunners for Best Picture – "Avatar" and "The Hurt Locker" – into diametrically opposed camps to see how Oscar mania can skew a film's identity. The "David vs. Goliath" is both a neat angle and, in financial terms, a true one. But however many hundreds of millions of dollars separate the films in terms of both price and gross, this narrative obscures the fact that the films have a lot more in common than just the romantic history of their helmers.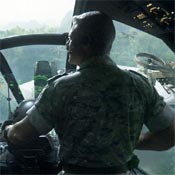 As one of the cheapest and lowest-grossing of this year's Best Picture nominees, it's understandable that champions of independent cinema have rallied around Kathryn Bigelow's terse, tough film – its success, like that of "Precious," a gesture of encouragement to fellow filmmakers to keep budgets low and ambitions high.
At the same time, however, "The Hurt Locker" is not the lofty arthouse work that certain journalists would now have you believe. Rather, it's a kickass action thriller that plays as well to the older bourgeois audiences at whom it was marketed as to the adventurous teenage boys who might have stumbled upon it. The storytelling might be a little more refined, but it's recognizably the work of the woman behind such macho commercial entertainments as "Point Break" and "Strange Days."
If you view it, as I do, as a summer sleeper that never quite was (blame the marketing, not the movie) the film becomes less "Avatar's" opposite number and more its smaller, cooler young brother. Their tastes and textures might be very different – one is romantic, the other pragmatic — but they're both hard-driving combat movies from highly visual craftsmen steeped in genre filmmaking; throw "District 9" into the mix, and the Academy happened upon three such films in one year.
As much, then, as journalists would like to paint this year's Best Picture race as a bitter throwdown between indie pluck and studio bloat, there are sure to be plenty of Academy members who like both movies … or neither. As Kris pointed out earlier today, the innovation of preferential voting this year allows room for a film with a markedly more gentle aesthetic ("Up in the Air," say, or even "The Blind Side") to emerge as a spoiler.
Similarly misaligned battle lines also exist in the Best Actress race, with observers quick to define themselves as a Sandra Bullock or Meryl Streep supporter (frequently denigrating the opposition in the process). Again, this horse-race rather obscures the fact that Bullock and Streep are essentially on the same team – beloved, middle-aged Hollywood stalwarts in perky studio fare – while the young indie one-two of Carey Mulligan and Gabourey Sidibe makes for more narratively compelling opposition.
If this sounds like I'm trying to falsely inject complications into races that seem largely cut-and-dried, I assure you I'm not. I'm confident that many of the frontrunners are indeed immovable – though a mere two days after the nominations, the blogosphere and Twitterverse are doing their best to make you think otherwise.
"Are Christoph Waltz and Mo'Nique really locks?" they cry. (Yes – sometimes it really does come down to the performance.) "Can Jeremy Renner pull an Adrien Brody?" they muse. (No – Brody was up against four previous winners, not a decades-overdue Jeff Bridges.)
And so on and so forth – such will be the practice as we continue to amuse overselves over the next few weeks of Oscar-watching. But if any upsets do lie ahead, it'll be because Academy members now have over a month to distance themselves from the precursor buzz and to watch (or rewatch) the movies – only to find that they don't all fit into the neat boxes they expected them to. Before we settle in for a February of spitballing and occasional mud-slinging, we'd do well to do likewise.