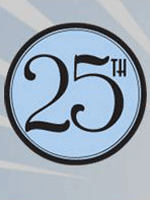 Later this afternoon I'm off to Santa Barbara for a week of light film-going, heavy tributes and plenty of events, not to mention some much-needed relaxation.
This year's 25th anniversary fest will be welcoming the likes of Mark Boal, Pete Docter, Geoffrey Fletcher, Alex Kurtzman, Nancy Meyers, Scott Neustadter, Jason Reitman, Quentin Tarantino, Kathryn Bigelow, Todd Phillips, Lawrence Bender, Jon Landau, Ivan Reitman, the list is endless.  Tributes for Julianne Moore, Sandra Bullock, James Cameron and many more are also in place.  It should be a grand ole' time.
Meanwhile, Guy will be crossing the channel to Germany for this year's Berlin fest next week, so there will be a variety of content on the way.  I'll be pulling in to Santa Barbara in a few hours and try to make the opening night screening of "Flying Lessons," but for now, the floor is yours.