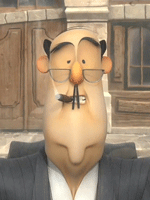 This is one of the few times the animated short category doesn't have an American in the bunch.  One of the big snubs, in fact, was probably Pixar's "Partly Cloudy." So I wouldn't bank on any domestic bias this time around.
The animated short films feature a wide array of creative prowess, but it almost seems unfair to have such brief exercises up against longer-form narratives. The shortest entry of the bunch is roughly six minutes long, while the longest is nearly 30. You get vastly different pros and cons when you get that mixture of pace and comedic (since most animated shorts are comedies) timing. Nevertheless, none of them stands out as outright bad, so that's certainly a plus.
The nominees are:
"French Roast" (Fabrice O. Joubert)
"Granny O'Grimm's Sleeping Beauty" (Nicky Phelan and Darragh O'Connell)
"The Lady and the Reaper (La Dama y la Muerte)" (Javier Recio Gracia)
"Logorama" (Nicolas Schmerkin)
"Wallace & Gromit in 'A Matter of Loaf and Death'" (Nick Park)

Usually you see more of a diverse mixture of media when it comes to this category, but this year the field is dominated by four CG offerings (one of them with some traditional animation tossed in), with one claymation piece being the outlier.  Shorts International and Magnolia Pictures will once again be releasing all the shorts theatrically prior to the Oscars.  Keep an eye on TheOscarShorts.com for more information.
Fabrice O. Joubert's CG "French Roast" is delightful enough, and the gag is pretty simple (as you might imagine): a Frenchman enjoying his afternoon coffee realizes he's apparently left his wallet at home, so in lieu of making matters known, he runs up a giant coffee tab as he considers his options. Meanwhile, a homeless man with alfalfa sprout-like dingy hair, a nun who is more than she appears to be and a rotund policeman offer plenty to keep visual interest in the piece. Things don't get too repetitive though there isn't an overriding sense of the piece actually being about anything, even if film does end in an, "Awwww," moment that is well-earned. Of the five nominees, I might be inclined to think this one will be bringing up the rear, but I could certainly be wrong.
Nicky Phelan and Darragh O'Connell's "Granny O'Grimm's Sleeping Beauty" is one of the funniest entries in the category. The film features a tiny grandmother with towering, Marge-like gray hair who turns the classic "Sleeping Beauty" bedtime story into a certifiable nightmare with her personalized, jaded telling of it to a frightened youth. A unique blend of CG and traditional animation (cutting back and forth from the bedside setting to Granny O'Grimm's vision of the tale) could tickle the committee's fancy if the humor isn't enough to get them there. The closing credits are accompanied by her twisted lullaby, which sends the viewer away laughing. I wouldn't be surprised if there was more support for this film than the other nominees that clock in under 10 minutes.
The Antonio Banderes-produced "The Lady and the Reaper (La Dama y la Muerte)" from director Javier Recio Gracia keeps the CG comedy going strong. The film is a nifty romp about an elderly dame — still sad over the loss of her husband — who receives a welcome visit from the Grim Reaper one evening. The film dips into farcical territory as a battle of wills ensues between the Reaper and a buff and handsome doctor fighting for the woman's life. In spite of a brisk eight-minute running time, the film is wonderfully imaginative with nods to Chicano art here and there. The color palette is quite vibrant, making it one of the more beautiful nominees, and it ends on a morbid note that is nevertheless quite funny. A mid-credits denouement plays it up for laughs one more time.
Nicholas Schmerkin's "Logorama" is committed if nothing else. Featuring a world dominated by an array of familiar commercial logos (which becomes a commentary on an American landscape saturated in corporatism), the film spins a police drama with foul-mouthed Michelin Men cops and a villainous Ronald McDonald at the fore. The film always finds creative ways to implement the logos (my favorite being the XBOX "X" used to illustrate cracking pavement). When it begins to appear as if the film will never rise above this gag, however, the carnage yields a flood of oil, which soaks the corporate scenery and even draws on Katrina imagery as a bald eagle flies off, The Ink Spots' "I Don't Want To Set the World On Fire." The socio-political indictment becomes rather palpable by film's end.
"Wallace and Gromit in 'A Matter of Loaf and Death'" from director Nick Park has everything you've come to expect of a Wallace & Gromit tale: cheeky humor, a handful of action set-pieces and an interesting narrative weaving it all together. In this latest chapter of the mild-mannered inventor and his faithful pooch, someone is murdering bakers. Twelve have fallen victim so far as the story begins. A love interest is introduced for Wallace in the form of former "Bake-o-Lite girl" Piella and the pieces fall into place from there. At a robust 29 minutes, the film is by far the longest of the lot. It is also clearly the film with the most resources available to it. The running time allows for a broader story to be fleshed out and developed, but beyond that, it's just a lovely yarn typical of Park's finest work.
Will win: "Wallace & Gromit in 'A Matter of Loaf and Death'"
Could win: "Logorama"
Should win: "Logorama"
Should have been here: (abstain)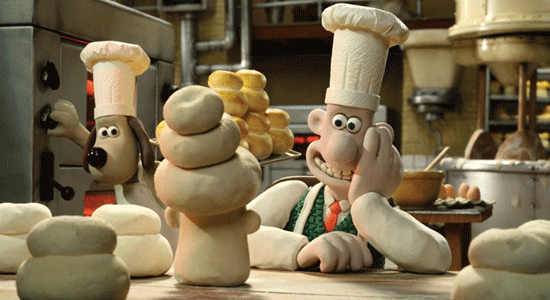 What do you think deserves to win this year's Oscar for Best Animated Short?  Have your say in the sidebar poll! (Note: I recognize most of you will not have seen all of the films and therefore don't have an opinion on the matter, but in the service of uniformity, we'll offer a poll anyway.)